Samsung Galaxy S6 edge review: Samsung gets its mojo back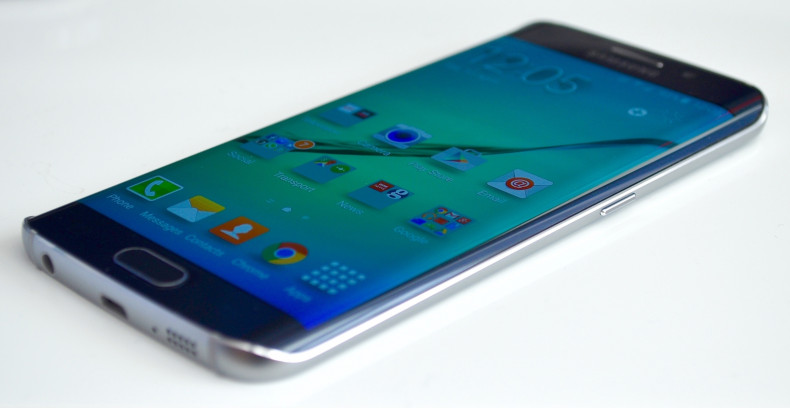 Samsung Galaxy S6 edge Key Features
5.1in QHD screen
Exynos octa-core, 64-bit processor
3GB RAM / 64GB storage
Android 5 Lollipop with TouchWiz
Price as reviewed: £760
What a difference a year makes. This time 12 months ago the Galaxy S5 landed with a disappointingly familiar plastic body and software which felt tired and cluttered.
But now the Galaxy S6 and S6 edge are here to breath new life into Samsung's flagship phone with an all-new design, improved software and cameras, faster performance and, in the case of the S6 edge you see here, a unique design quirk.
Yes, both phones are expensive. Yes, they no longer have expandable storage, waterproofing or removable batteries; and yes, they share more than a passing resemblance to the iPhone 6. But they are the most important Samsung handsets in years. They are not merely evolution; these phones are a revolution.
---
Samsung Galaxy S6 edge: Look and feel
---
Clearly, with its curved screen the Galaxy S6 edge has a look and feel all of its own. The curves and resulting sharper edges make it feel like a very different handset to the regular S6; it feels thinner and just...different. The edges give it a certain curiosity which other phones miss out on. I found myself picking the handset up and inspecting its shape and contours, even when I didn't need to use it.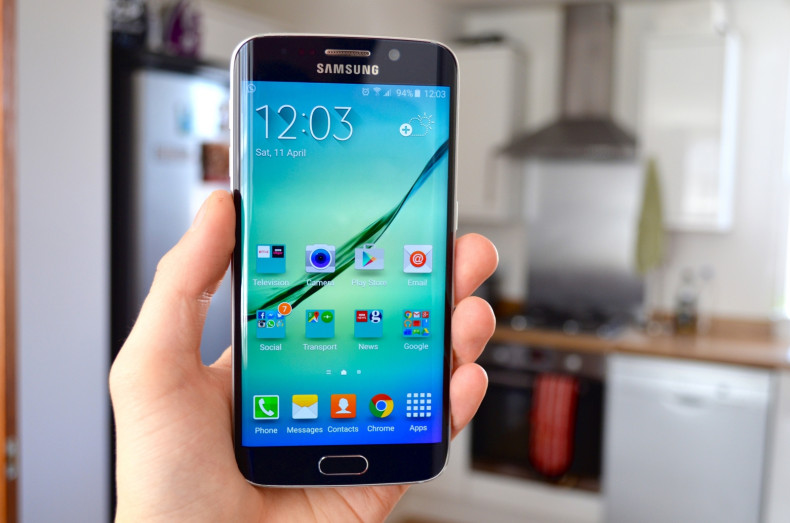 Moving away from the unique screen and it's clear Samsung has made huge changes over the S5 to make a duo of phones which are - for the first time in years - worthy rivals to the iPhone.
The top and bottom edges of the S6 are very similar to Apple's phone, there is no escaping that, but where some fanboys will claim copyright infringement, I'm just happy to see Samsung up its game enough to be likened to the iPhone in the same breath. The aluminium chassis has a premium look and feel which no previous Galaxy S has even come close to. Even the home and volume buttons have more tactile clicks to them than the mushy S5.

Glass on both the front and back is sure to cause concern among serial phone-droppers, but it's a good look which produces plenty of grip - much more than the eel-like iPhone 6 - and isn't the fingerprint magnet I expected it to be. However, while the S6 always felt safe in my hands, the glass back makes it incredibly slippery on hard surfaces. The S6 would creep slowly off the flat leather arms of my sofa and even slid its way off Samsung's own wireless charger, which has a rubber contact area to stop this happening.
My S6 edge survived several falls, including one onto a wooden terrace when it slipped off the charger, so at least the glass is strong, if somewhat accident prone.

---
Samsung Galaxy S6 edge: Screen
---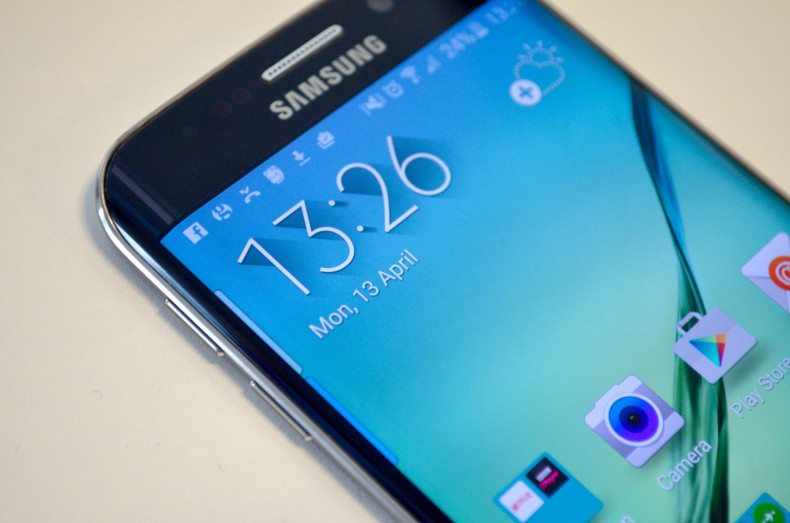 There are two key areas of change here over the S5. First, obviously, are the curved edges - more of which in a minute - and secondly is the resolution. This is a 5.1in panel with a QHD resolution of 1440 x 2560 - the same size as the S5, but with twice as many pixels. This makes icons sharper and fonts beautifully rounded and smooth.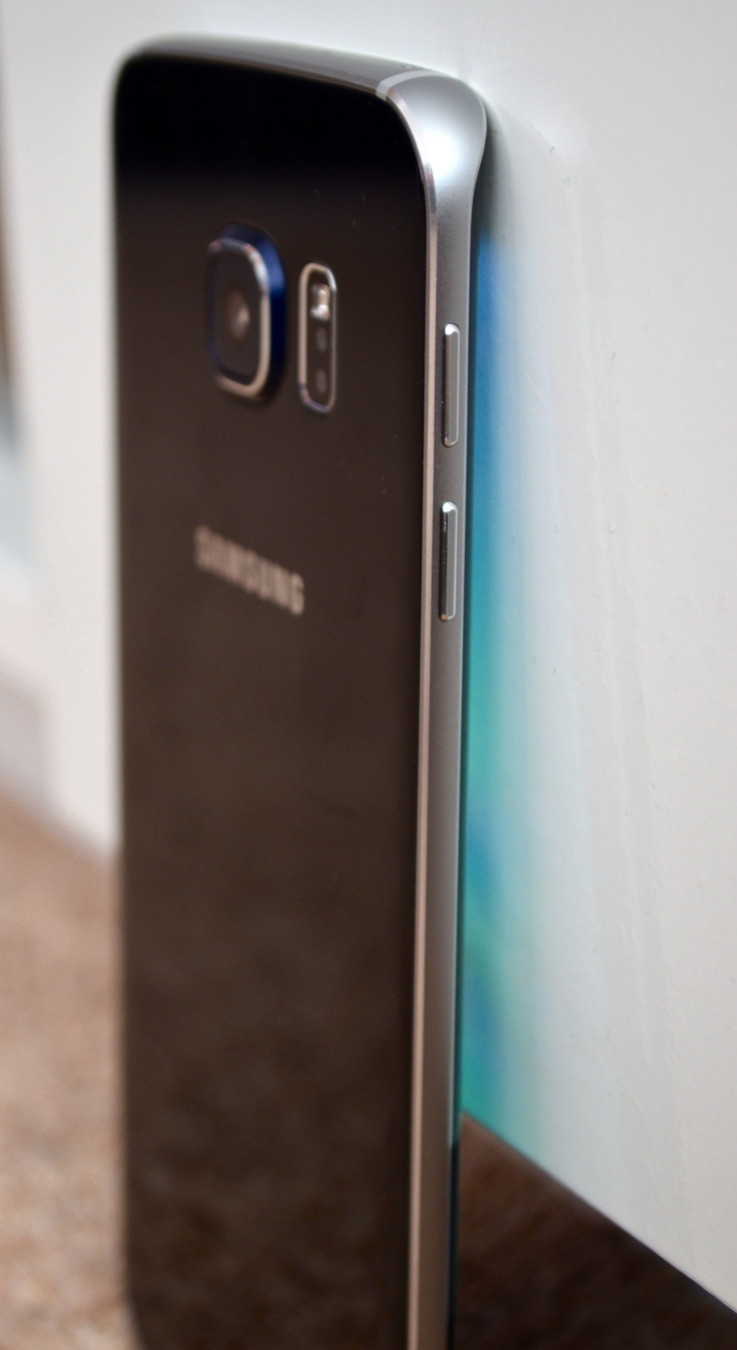 The edge display lights up a different colour depending on which contact is calling you
IBTimes UK
Dismissing extra pixels in favour of battery life - as the iPhone 6 and HTC One M9 both do - is a fair argument, but Samsung has paired the edge's classy, eye-catching design with as many pixels as possible. The result is beautiful and a screen which, although still AMOLED, suffers less from the blue tinge displayed by its predecessors.
Not as aggressive as the Galaxy Note Edge from last year, the S6's curves are smaller, less noticeable and have fewer software features to make use of them. Only one edge can be used at a time - you can choose which in the settings app - and its use mostly focuses on interacting with five of your favorite contacts.
Each of the five contacts, which you choose to be accessible with a swipe in from the edge, is assigned a colour. When the phone is face down (in a meeting, say, when you don't want to be distracted but still want to see it ring) and a favourite contact calls you, the edge lights up in their assigned colour.
Then you can either take the call or send the contact a pre-written text by pressing your finger against the heart rate monitor for two seconds. Something like "I'm meeting a client, will call you after" might be useful to send if your boss calls, but it's hard to think of too many canned replies which don't make you sound like a robot. The edge can also show notifications and act as a bedside clock.
---
Samsung Galaxy S6 edge: Software and performance
---
Ditching Qualcomm's line of Snapdragon processors, Samsung has gone its own way for the S6 and S6 edge. This means the Exynos 7420, an octa-core processor with two quad-core chips, one at 1.5GHz and one at 2.1GHz, plus 3GB of RAM. All this runs Android 5 Lollipop with Samsung's TouchWiz user interface, which has undergone another year of refinement and dieting to lose some of the features, gimmicks and bloatware which clogged up Galaxies of old.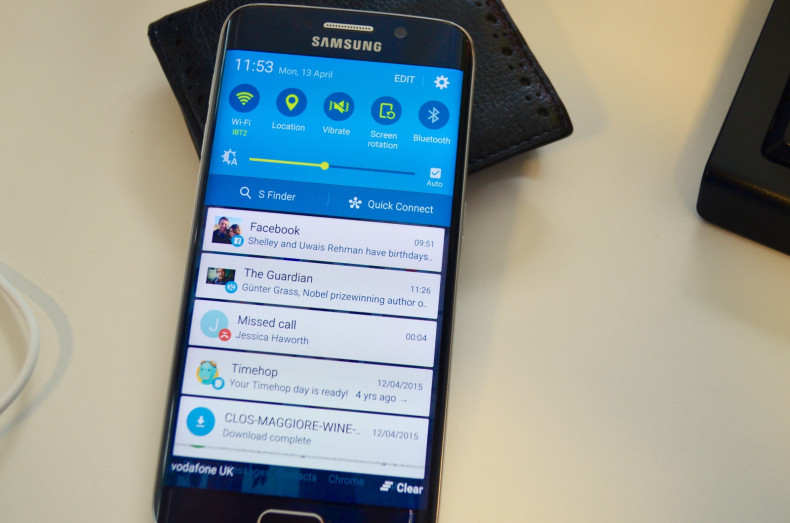 Switching its attention from gimmicks to simplicity makes the S6 a huge improvement over the S4 and S5. The UI is finally rid of those childish bleeps and bloops which plagued every screen tap of older models, and the thoroughly brilliant camera has the fastest and simplest app I've ever seen on a Samsung. Occasionally the phone would stumble when returning to the home screen or assigning a new wallpaper, but it is mostly without fault.
There are drawbacks, though. The Galaxy S6 edge is not waterproof, its battery cannot be removed or replaced if it runs out, and the 64GB of storage in my review unit cannot be increased as there is no microSD card slot. But these shouldn't be seen as deal-breakers. The S6 edge has iPhone-matching storage (a 128GB model is coming soon), and the battery lasted me all day each time I charged it - and if it does run dry, the S6 charges more quickly than most other phones.
---
Samsung Galaxy S6 edge: Camera
---
At long last, Samsung has given its flagship a camera to match the iPhone. It's a 16-megapixel sensor with optical image stabilisation and it is simply brilliant, especially in low light where it produces significantly better shots than the S5.
Brightness and saturation are possibly turned up slightly too high giving photos an artificial polish - but this is a minor complaint. Photos produced by the S6 edge and S6 (it's the same camera) are excellent, and taking them is easier and faster than ever.
The same scene is captured using the Galaxy S5 (top) and the S6 edge (below).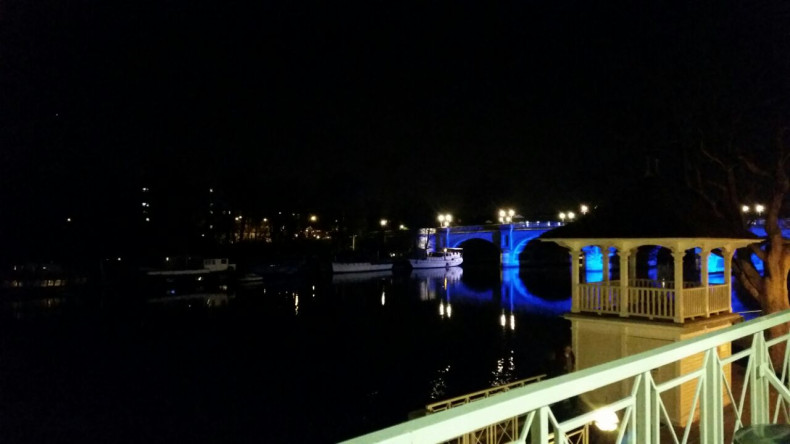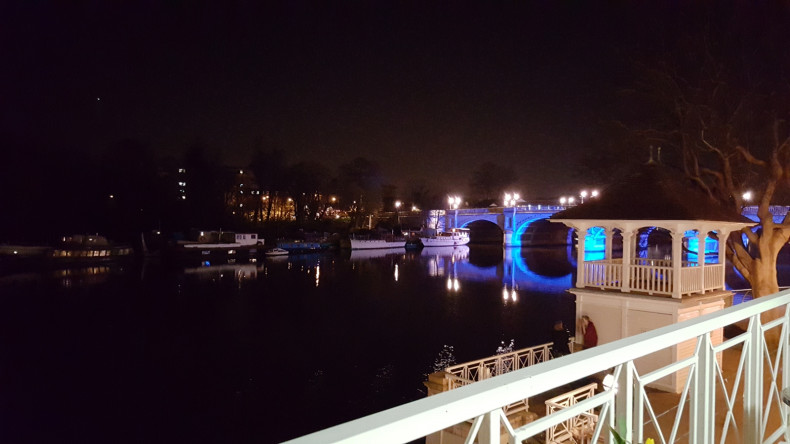 ---
Samsung Galaxy S6 edge: Verdict
---
Samsung has finally mastered the subtle difference between gimmick and feature to create a phone which is beautiful, functional and unlike anything else on the market. But with such high praise comes a high price; the Galaxy S6 edge with 64GB of storage is £760 - that's £141 more than the 64GB iPhone 6, and £61 more than both the 64GB iPhone 6 Plus and 128GB iPhone 6.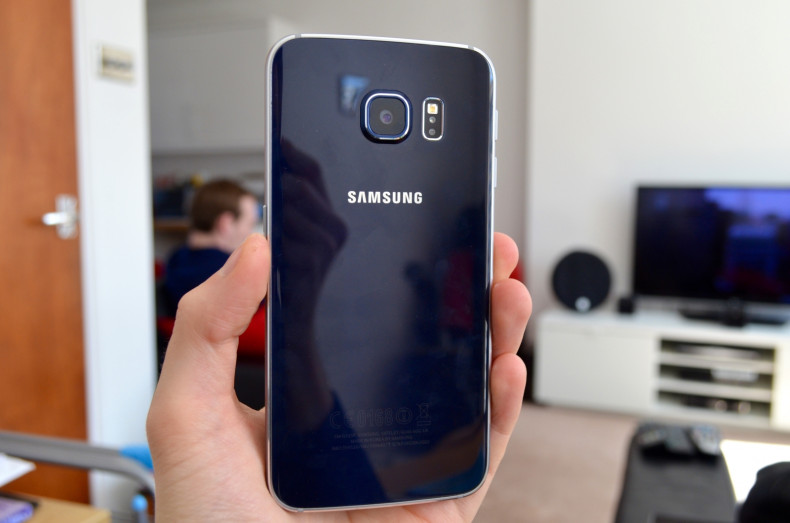 But Samsung has every right to charge top dollar for its curvy flagship. The lack of a removeable battery, waterproofing and expandable storage are as much problems here as they are for iPhone buyers, and inconsequential factors to the majority of users. And the S6's design, craftsmanship (not a word usually afforded to Samsung) and performance put it on par with Apple.
I applaud Samsung for trying something new and running with it. It's expensive and I'd suggest most readers pluck for the cheaper S6, but the existence of the edge is evidence of a rightfully confident Samsung which is back to its best.
Samsung Galaxy S6 edge scores:
Screen: 10/10 - Absolutely no complaints; it's a great size, has all the pixels you would ever need, and the curves make it beautifully interesting to look at and hold
Camera: 9/10 - As good as the iPhone 6 and a quantum leap ahead of the S5. Speed and low-light performance both hugely impressive
Software: 8/10 - Improving every year, Samsung's TouchWiz is simpler, friendly and less cluttered than ever
Design: 9/10 - Normal is boring; the curved screen isn't hugely useful, but is quirky. The rest is superb and only let down by being extremely slippery
Build Quality: 9/10 - Excellent. A league ahead of the S4 and S5, but I wonder if the glass back will survive when dropped
Overall: 9/10 - Samsung is back to its best with a phone which excels in almost every way. Only let down by costing £100 more than the regular S6
The Good:
Beautiful, eye-catching design
Software is simpler and friendlier than ever
Stunningly sharp screen
The Bad:
Expensive
Edge screen has limited features
Fixed battery and storage will anger some