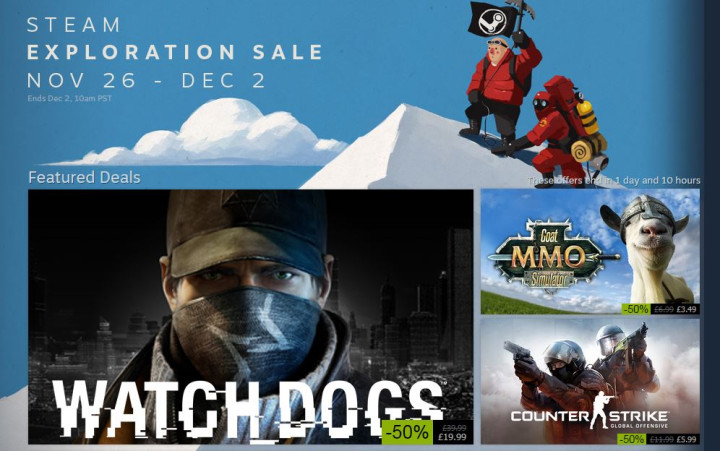 Steam's "Exploration Sale" has begun, offering big discounts on a range of PC games.
Running until Tuesday 2 December, the Autumn sale currently features Watch Dogs at £19.99, Counter Strike: Global Offensive at £5.99 and Goat Simulator at £3.49 – all 50% off.
Other deals include indie survival game Don't Stave for £2.74 (75% off), fantasy role playing game Lords of the Fallen for £17.99 (40% off) and Shinji Mikami horror The Evil Within for £11.89 (66% off).
Rounding off the featured games also include Sid Meier's Civilisation: Beyond Earth is £20.99 (30% off), The Long Dark is £7.49 (50% off) and Company of Heroes 2 is £7.49 (75% off).
Steam sales always get the PC gaming world in a spin with multiple week-long sales offering huge discounts on digital releases. A winter sale typically takes place in late December as well.
In total there are 5,663 games on sale across the digital distribution platform.
A number of shorter term offers are set to end at 8pm GMT this evening (Thurs 27 Nov), including the exceptional The Stanley Parable for £2.99 and brilliant FTL: Faster Than Light for £2.09 – both 70% off.
The Vanishing of Ethan Carter is on sale at £8.99 (40% off), along with The Wolf Among Us Season 1 for £6.45 (66% off) and beat-em-up Injustice: Gods Among Us: Ultimate Edition for £3.74 (75% off).
Further details can expected across the weekend.