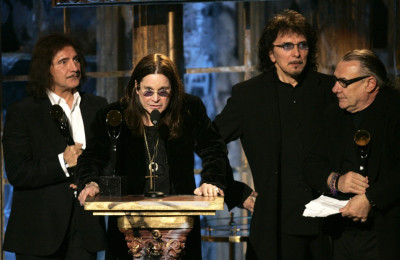 Black Sabbath have announced that they will reunite for a 'special event ' on Remembrance Day.
After years of rumours, the heavy metal rock band have once again sparked speculation of a long-awaited reunion after revealing that they would be coming together on this Friday.
Fans will be waiting to see if original Black Sabbath band members Ozzy Osbourne Tony Iommi, Geezer Butler and Bill Ward do officially reunite and spearhead one of the greatest comebacks in music history.
Reunion rumours have being rife following reports that the line-up had been meeting up for secret rehearsals and could be possible penning a new album, their first in 33 years.
The bands 'special event', which will attended by all the original members is set to take place Hollywood's Whisky A Go Go club, where they first debut in LA 41 years ago.
Meanwhile, fans pinning their hopes on a imminent reunion will be happy to hear that Black Sabboth have recently updated their official website and Facebook page, which now both feature fresh logos and the 11-11-11 date.
Black Sabbath formed in Birmingham in 1968 and has had multi-platinum success. They are considered one of the innovators of heavy metal music, despite multiple line-ups through the years.
In a recent interview with Billboard, Ozzy Osbourne told the magazine that a new Black Sabbath album is "a very, very strong possibility. The rocker said: 'It's in the very early stages, so we haven't recorded anything yet. If it works out, it'll work out. If it doesn't, I'll keep doing my thing.'