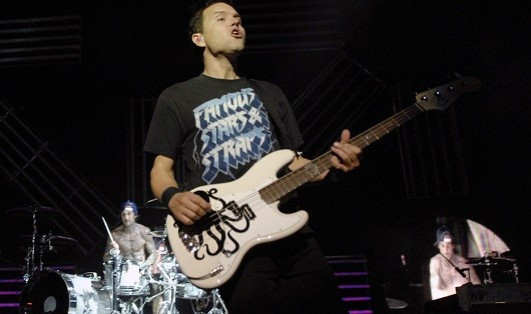 US punk rock veterans Blink-182 have been confirmed as the first headline acts for next year's Reading and Leeds festival.
The band, who previously headlined the three-day event in 2010, will play at the festival in what will be their only UK performance of the year.
The trio were confirmed to be playing at the festival alongside Jake Bugg, Disclosure, Metronomy, Of Mice & Men, I Am Legion and Wilkinson by Radio 1.
Blink 182 bassist and co-vocalist Mark Hoppus said: "I'm stoked to play Reading and Leeds 2014. It's our fourth time playing the festivals, and we're very honoured."
Festival organiser Melvin Benn said he already has two of the three headliners in mind for 2014. This year's festival saw Biffy Clyro, Green day and Eminem head the main stage.
Benn added: "2013 was a year of exciting additions for Reading & Leeds Festivals, making them bigger and better than ever.
"With extra stages and genres at both sites, there was a new diversity for all our fans to enjoy. However the core essence of the festival hasn't changed and I think the line-up for next year will most certainly reflect that.
"I know our fans will be delighted to welcome back our first headliners, Blink-182, with what promises to be an amazing show, as well as the brilliant Jake Bugg stepping up to the Main Stage. I can't wait to reveal the rest of our incredible line-up, so watch this space."
Organisers previously said they booked "one of the best British bands of the last decade" to perform, with rumours Arctic Monkeys and Queens of the Stone Age will be the other two headliners.
More acts are due to be announced over the coming weeks.
For the first time, the £210.50 festival can be reserved with a £50 deposit, with the remaining fee being paid off in three monthly instalments.
The Reading and Leeds Festivals are due to take place between 22 and 24 August.