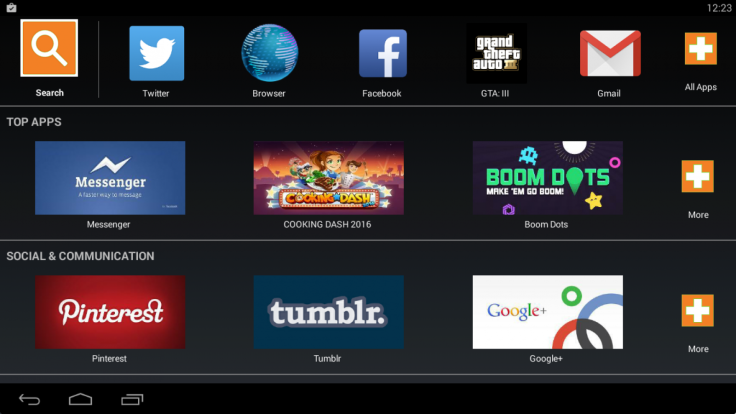 Apple and Android typically exist in isolation of one another, but a new piece of software will now let you run any Android app on your Apple Mac computer for free.
The ability to do this comes from a company called Bluestacks which has been offering an Android emulator for Windows PCs for many years but has now released a version for Apple's computers.
The free Bluestacks App Player can be downloaded from the company's website and will even allow you to sign into your own Google account so that apps and games you have previously paid for can be downloaded again.
The advantages of using Bluestacks means you get to use your keyboard and mouse/trackpad to control the apps and games, which for productivity apps in particular is a huge boon. The software has also been optimised to use your computer's microphone and camera, and even has native graphics support to make high-end gaming even better.
Setting up
The set up process is relatively simple and the interface - while radically different from Android on your phone or tablet - is simple and clean. It shows you your most recent apps along the top as well as categories such as top apps, social and different types of games.
You can also search for apps and this brings up the actual Google Play store interface, and from here you can navigate around this more familiar territory and access sections like My Apps. There is also always a trio of Android navigation buttons along the bottom of the screen for Back, Home and Multitasking - which is a really handy tool when there is no obvious way to get to where you want to go.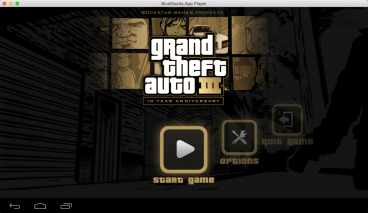 The main sticking point initially is that the resolution of the Bluestacks App Player is not great. That said, the company has told 9to5Mac that it has optimised the Bluestacks Player for Apple's Retina displays as well as pinch-to-zoom gesture on the trackpad.
Once I had signed in to my Google account I was easily able to download Grand Theft Auto 3 which I had previously paid for, and in full screen mode it looked great.
The problem I had was that there was no way of finding out what the keyboard controls were aside from trial and error, and while I managed to figure it out, it did take some time.
In other games such as Temple Run the keyboard controls are shown at the beginning of the game, but in this case two of them simply didn't work.
Another game - Grim Fandango - simply didn't download because it wasn't compatible. So I guess saying all Android apps and games are available is not quite accurate.
Bluestacks also plays up the fact that messaging apps (WhatsApp and Messenger) can be used in full-screen mode on your laptop, but in the case of WhatsApp at least, it will mean you then won't be able to use it on your phone, as your account is tied to your phone number and can be used on only one device at a time.