Bobby Brown and Whitney Houston's sister-in-law Pat Houston have been legally appointed co-guardians of Bobbi Kristina Brown's estate.
The decision was finalised after Bobby and Pat spent the day embroiled in negotiations in DeKalb County Courthouse in Georgia.
Their respective lawyers released an official statement confirming the reports saying: "We are delighted to inform the public that the court has appointed Bobby Brown and Pat Houston as co-guardians of Bobbi Kristina Brown ('Krissi') Both Mr. Brown and Ms. Houston are jointly responsible for decisions related to Krissi's care and medical needs.
"Both parties are delighted with the court's decision and are working harmoniously to ensure Krissi receives the best possible medical care. We are appreciative of the manner in which Judge Jeryl Debra Rosh handled this matter," the statement concluded.
The court also appointed attorney Bedelia Hargrove as the conservator for Bobbi Kristina. "Ms. Hargrove is responsible for Krissi's assets, including her likeness, rights and legal claims," the statement added.
Bobby Brown filed for guardianship following an alleged dispute with Cissy Houston over his daughter's estate on April 25. As her father, the 46-year-old is Bobbi Kristina's closest living relative, and while he has the final say regarding matters relating to her health, until now he has had no control over her $20 million inheritance. Brown was married to Bodyguard star Whitney Houston for 14 years and after finalizing their divorce in April 2007, Bobby's claim to her estate was nullified.
Cissy Houston released a statement after Bobby Brown's initial announcement saying she would fight his attempts to secure guardianship. "This is a family matter involving sensitive information. We hope to resolve this in a manner that is respectful of Bobbi Kristina's sensitive health information," she said. "The Houston family has always looked out for the best interest of Bobbi Kristina Brown. The family has done so all of her life and will continue to do so. We trust that others have the same objective."
Bobbi Kristina, who remains in a coma after being found unresponsive in a bath tub of her Georgia home three months ago, was the sole heir of her mother Whitney Houston's fortune. Her grandmother, Cissy Houston, and her uncle and aunt Gary and Pat Houston are named as the executors of the $20 million trust bequeathed through her mother Whitney's will when she died in 2012. Bobbi Kristina inherited 10 per cent of the trust when she turned 21 and is scheduled to inherit another 15 percent at age 25, before receiving the remainder at 30.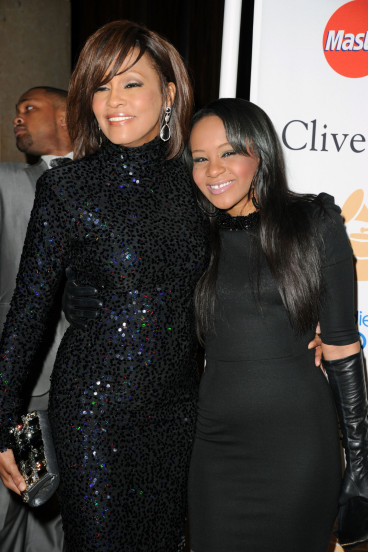 In late February, her doctors attempted to take out of her medically induced coma but she began having violent seizures and was placed back on life support.
The aspiring actress was recently moved from Emory University Hospital to a rehabilitation facility in Atlanta so she could be provided with long term care.
While the family were said to be torn over the decision of whether to take Bobbi Kristina off life support, her father is said to be determined to do all he can to keep his a daughter alive and intends for the trust funds to go towards to cost of her long-term care.
Despite suspicions that Bobby Brown is trying to take control of Bobbi Kristina's inheritance, a source told People magazine that he "only wants what's best for (his daughter)."
That matter now appears to have been resolved with both parties working together in the best interests of Bobbi Kristina.