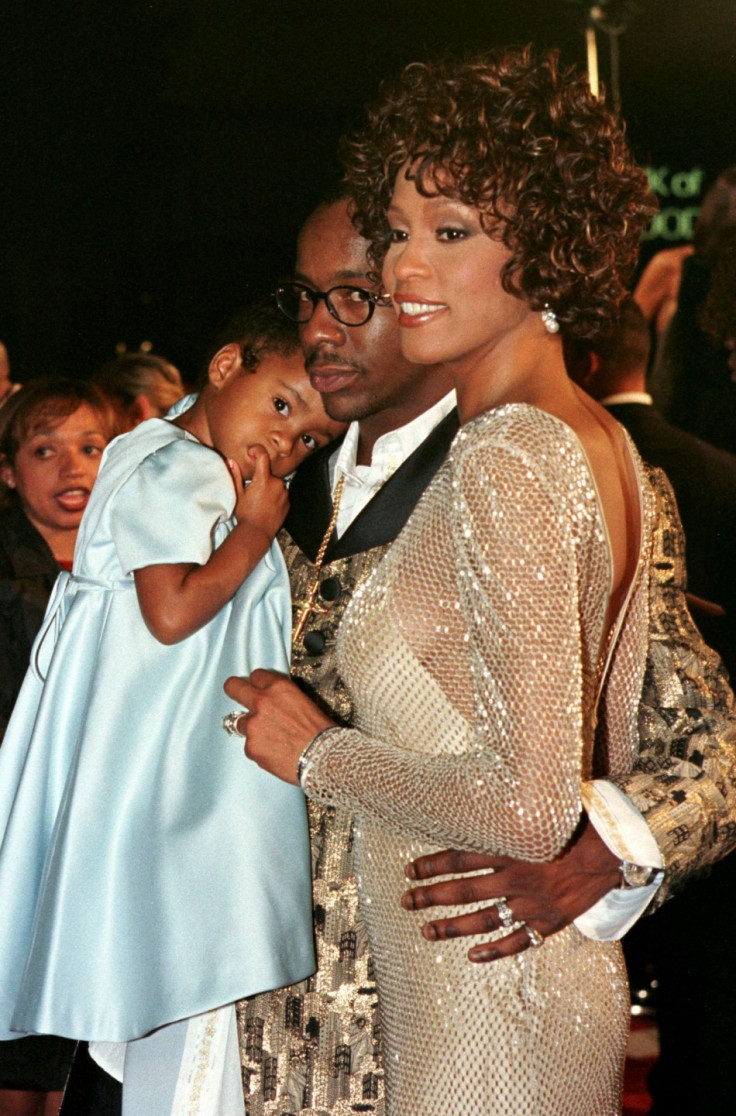 Whitney Houston's personal driver has claimed that he witnessed the singer and her husband Bobby Brown smoking crack in front of their five-year-old daughter.
Al Bowman, who worked for Houston for two decades, told the Daily Mail that he observed at close quarters, the singer's descent into drug addiction and how she openly smoked crack in front of Bobbi Kristina.
He recounts an incident in his car in 1998, when the I Will Always Love You singer placed a thin pipe filled with crack cocaine to her lips, as her five-year-old daughter looked on.
She told her daughter: "Baby, calm down, Mommy and Daddy are doing adult things."
Bobbi Kristina is now in hospital in a medically induced coma after being found face down and unresponsive in a bathtub at her home in Georgia following a suspected drug overdose. The circumstances are tragically similar to her mother's death. Houston died in a bathtub from an 'accidental' drug overdose on February 11, almost exactly three years ago.
Bowman recalls driving Houston into rundown ghettos in Los Angeles to meet drug dealers describing the singer as "out of control" as she took the drugs in front of her child.
"I couldn't believe it, it was heart-breaking, out of control," he said. "Whitney was a complete train wreck. I couldn't bear seeing her daughter sat there in amongst it all, it was so sad.
"Bobbi always wanted to be just like her mom and now it seems she may have followed in her footsteps. It's heart-breaking, a real tragedy. This young girl was raised in a world no child should live in," he explained.
"I wanted to help her but Whitney was just too out of control and wouldn't listen to anyone."
Describing one particular limo ride when he picked up a "wasted" Houston with her husband Bobby Brown and their daughter from their LA home and drove them to the airport, he said: "It's very difficult to forget. I remember arriving at their house, putting their luggage in the car. Whitney looked grey and pasty. She could hardly talk because she'd been on some kind of bender for a couple of days. And the kid had obviously witnessed this as it was happening in the house. I just remember very vividly Whitney saying, "Good to see you" to me, but she could hardly talk.
"Then I said, 'Hi Bobbi' to her daughter and she came up and hugged me and then she looked up at me – you know how little children kind of give you that reverent look. It was like she was thinking: 'Thank God a normal person is here'. It was so sad. And I just thought to myself how horrible it was that this kid had to witness this stuff.'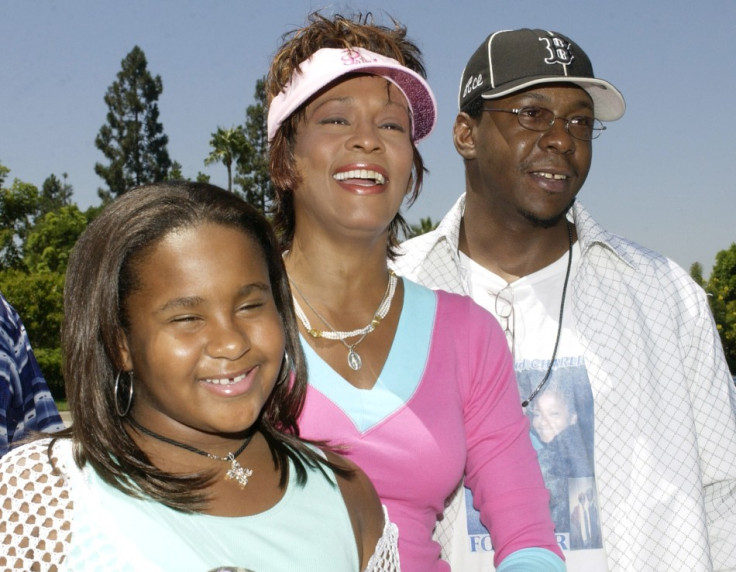 Bowman said that during the limo ride Bobby Brown offered Houston some crack cocaine while little Bobbi jumped up and down on the seats.
"He [Bobby Brown] had brought it [crack] with him. He had a skinny pipe. He seemed like he was okay, it was her health that was really affected. He seemed like he was used to it, like he could handle it. He was giving it to her. He was offering it to her and the kid was in the car. He was like, "Do you need something to pick you up baby?"
"The kid was on the jump seat jumping around, which was fine. But Bobby was like, 'Calm down, sit down.' I said, 'that's alright she's a little kid, she can jump around,' but he yelled: 'She ain't your kid.'
"I just couldn't wait to get the run over with especially as there was this smell of butane, human breath and sweat," Bowman added.
As a teenager, photographs of Bobbi Kristina allegedly lighting up what appeared to be a bong, were published in the National Enquirer.
Her ex-boyfriend at the time, Zach Jafarzadeh, claims he witnessed her drug-taking first hand.
According to the National Enquirer he said: "I've tried to stop her, but all she said was 'I'm just like my mother.' It was difficult to stop her from buying alcohol and drugs because her mother gave her $1,000 a week. I saw Krissi do an eight ball - an eighth of an ounce - of cocaine in just two days with friends. One time Whitney bought a case of beer for Krissi and her friends to drink in front of her. I couldn't believe it!"
Littlelady&yourgrowing young man @nickdgordon miss you mommy ..:') SOmuch.. loving you more every sec. #Anniversary! pic.twitter.com/3NBj8gwAi0

— Bobbi Kristina H.G. (@REALbkBrown) January 26, 2015
Following her mother's shocking death, the then 18-year-old was hospitalised after mixing a sedative with alcohol. She was photographed being taking out of her home unconscious on a stretcher.
Following the latest incident that has left her breathing with a ventilator, TMZ claims that officers found a stash of drugs while conducting a second, thorough search of the home.
Records have also revealed Maxwell Byron Lomas, who was with Bobbi on the day she was found unconscious in the bath tub, had been arrested just a month before for drug distribution. He was taken into custody on January 14 and later released on $15,000 bond, according to Fulton County Jail records.
People magazine have reported that Bobbi Kristina has been taken off life support as her family gather to say a final goodbye.