Bobbi Kristina's family have reportedly been banned from visiting her in hospice care after a photo of the unresponsive 22-year-old was offered to media outlets for $100,000 (£65,000).
According to TMZ, the security team at the Peachtree Christian Hospice near Atlanta are on high alert and restricting visitor access to Whitney Houston's daughter after finding evidence that a member of the Brown family was peddling the photo.
Earlier in July, the entertainment site reported that an image which shows a woman hovering over Bobbi Kristina as she remains unresponsive in her hospice bed was being shopped around.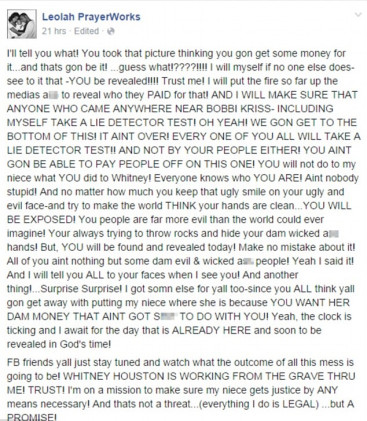 TMZ confirmed that it been approached, but declined to publish the controversial photograph taken by "an extended family member".
The weight of the protracted situation appears to be bearing down on the aspiring actress's father, Bobby Brown, who struggled during his recent performance with his group New Edition during a Fourth Of July celebration concert in Atlanta.
TMZ stated that the 46-year-old singer struggled to get through his set and apologized repeatedly to the audience for forgetting lyrics and dance moves.
Although Bobby Brown doesn't know who is responsible for taking the photograph, he vowed to find the culprit. "I'm just looking to get justice" he told TMZ.
Bobbi Kristina was found unconscious at her home in Roswell, Georgia, on 31 January 2015, shortly before the third anniversary of her mother's death. On 25 June, she was moved to hospice care having spent two months at Georgia's Emory University Hospital and a further 10 weeks at the DeKalb Medical facility.
Confirming the move to hospice care, her aunt Pat Houston said: "Despite the great medical care at numerous facilities, Bobbi Kristina Brown's condition has continued to deteriorate. We thank everyone for their support and prayers. She is in God's hands now."
In a scathing Facebook post, Bobbi Kristina's paternal aunt, Leolah Brown, expressed her outrage that somebody so close would want to cash in on her condition.
She wrote: "I'll tell you what! You took that picture thinking you gon get some money for it...and that's gon be it! ...guess what!????!!!! I will myself if no one else does-see to it that -YOU be revealed!!!!"