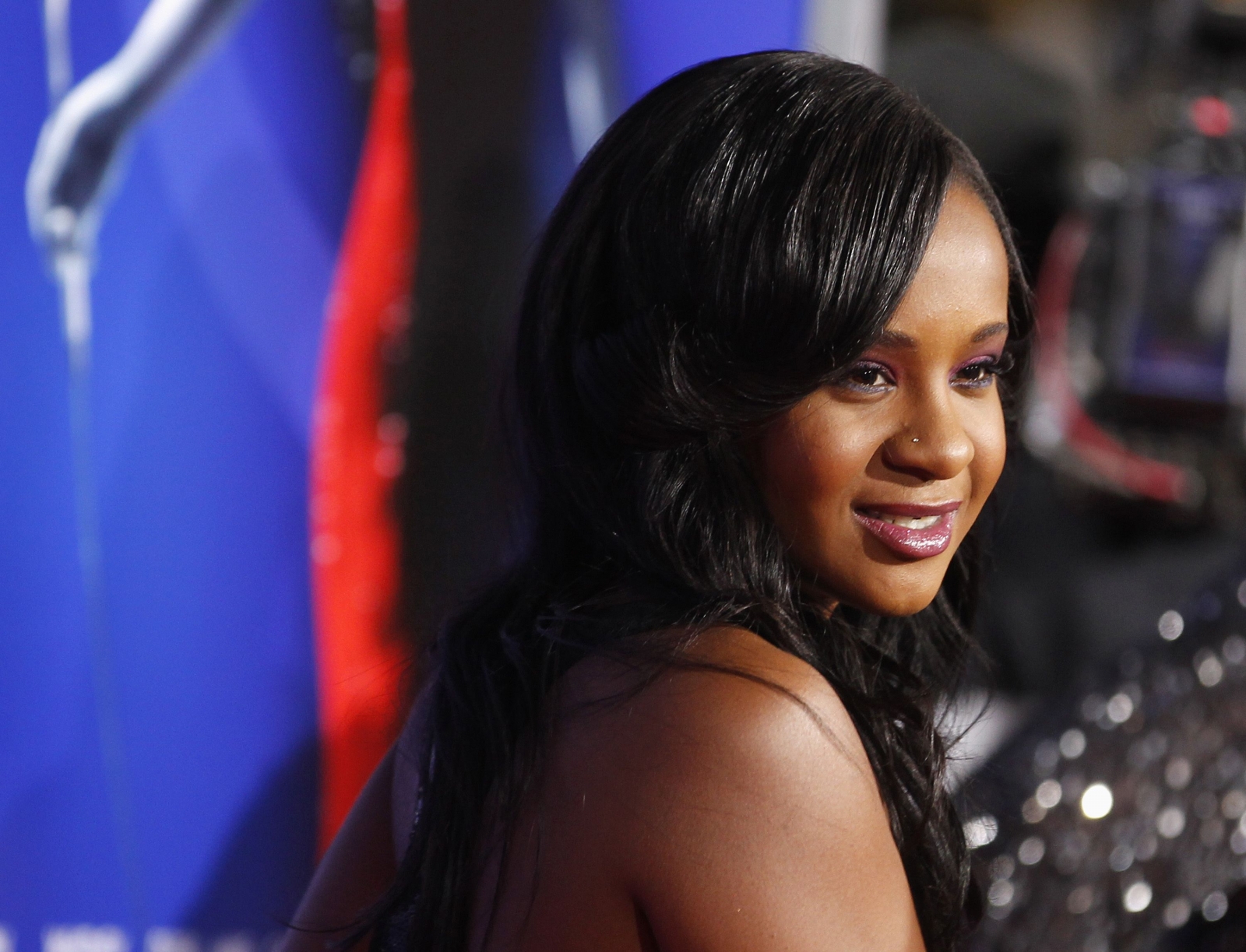 The aunt of Bobbi Kristina Brown has shared her disgust after a member of the extended family attempted to sell a picture of her niece as she lies in a coma.
The 22-year-old was recently transferred to Peachtree Christian Hospice in Georgia. Her co-guardian Pat Houston confirmed that her condition had deteriorated leaving little hope for recovery.
In the image, a female relative hovers over Bobbi Kristina as she lies unconscious in her bed.
The picture was reportedly offered to several news sites and magazines for more than $100,000. TMZ reports that some publications have shown interest in procuring the image, but most have quite rightly deemed it insensitive.
Entertainment Tonight revealed that it had been offered the image however, the news show declined the offer, deeming the photo 'unseemly'.
On Friday (3 July) Bobbi Kristina's paternal aunt, Leolah Brown, took to Facebook to express her outrage that a family member would attempt to make money out of her niece's tragic circumstance.
She wrote: "I'll tell you what! You took that picture thinking you gon get some money for it...and that's gon be it! ...guess what!????!!!! I will myself if no one else does-see to it that -YOU be revealed!!!!"
She warned that she will make anyone who has visited Bobbi Kristina take a lie detector test to track down the person who attempted to sell her out.
"EVERY ONE OF YOU ALL WILL TAKE A LIE DETECTOR TEST!! AND NOT BY YOUR PEOPLE EITHER! YOU AINT GON BE ABLE TO PAY PEOPLE OFF ON THIS ONE! YOU will not do to my niece what YOU did to Whitney! Everyone knows who YOU ARE! Aint nobody stupid!' she wrote.
Media gathered outside the hospice have reported that two Georgia state troopers have been positioned outside the hospice doors in a bid to 'beef up' security over fears Bobbi Kristina's death is 'imminent'.
In an interview with Fox News, a source close to the family said: "She barely has any signs of life, hardly any vitals. Even law enforcement have been called because the families have been told that death is now imminent. They want to make sure photographers don't get pictures of her body being removed."
Bobbi Kristina was placed in a medically induced coma five months ago after she was found face down and unresponsive in the bath tub at her Atlanta home which she shared with her partner Nick Gordon.
Her grandmother Cissy Houston reported that she was permanently brain damaged and despite efforts by the medical team at Emory University Hospital there was little hope for her recovery.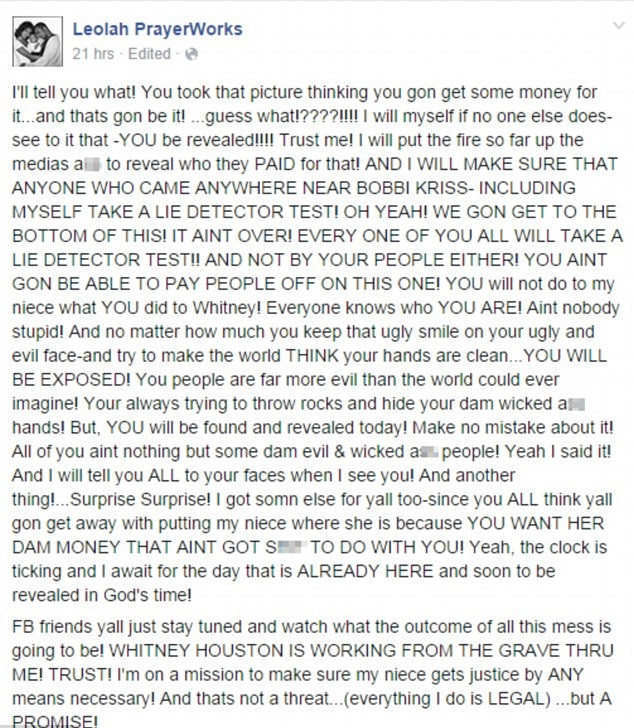 Bobbi Kristina Brown's aunt Leolah Brown posted a Facebook message expressing her outrage
Leolah Brown / Facebook
Last week, the aspiring actress's organs were said to be failing.
Bobbi Kristina was flown to Chicago to see specialists before she was eventually transferred to Peachtree Christian Hospice. The Chicago trip was described as a final effort to see if there was any way Bobbi Kristina could be saved, People Magazine confirmed.
The trip was intended to provide reassurance to Bobby Brown, that 'there was no hope' and that everything possible had been done to try and save his daughter.
A source told Fox News: "It seems that he had to get a certain amount of confirmation before really letting go. That trip is what convinced him to allow to take her off her meds."
While her family prepare for the heartbreaking loss that lies ahead, Nick Gordon is facing a $40million lawsuit in which it is alleged he attacked her on the day she was discovered at the home they shared in Roswell.
A friend of Bobbi Kristina has also revealed that the troubled daughter of Whitney Houston had confided in her following alleged assaults by Nick Gordon.