Thailand speedboat crash: British woman killed was on her honeymoon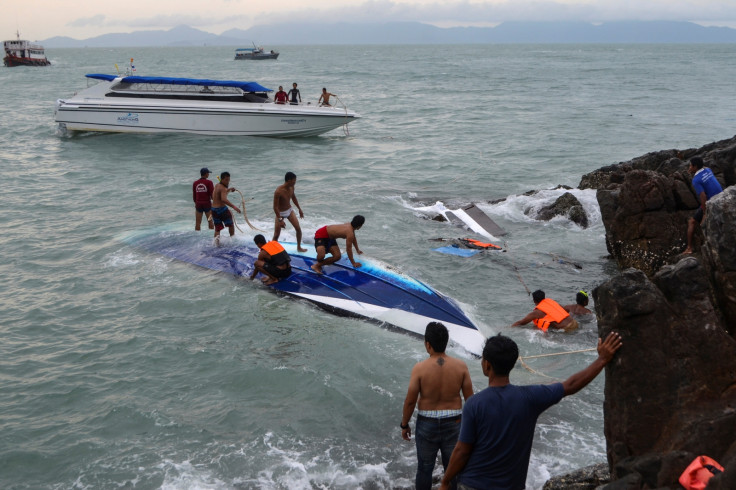 Monica O'Connor died when a giant wave capsized a speedboat off the coast of Koh Samui, Thailand. The 28-year-old worked as a manager at Deloitte. Her husband Tim is reported to have escaped without injury. The couple, both from Manchester, were married on 7 May and were on a two-week honeymoon.
A search operation is still underway for missing British man Jason Parnell, 46, who was celebrating his first wedding anniversary with his wife Puja when the accident happened. Mrs Parnell is believed to have survived the crash.
Conditions at sea continued to be rough off Koh Samui and, hampering search operations for the missing Briton. "The wind is strong and the water is not clear. So, it's quite difficult to search for the missing victim," Pol Lt Colonel Ukhcarawath Sithanaboonubol of the Marine Police Division said.
He said the search parameter was now 200 metres from the accident site. Other British people were also on board, but they are reported to have been released from hospital following treatment.
Police Major Sontas Wattanawalan, an inspector at Ao Nang Police Station said told The Nation: "At this point, we are now trying to locate the boat driver [of the long-tailed boat]."
Two other people – a woman from Hong Kong and a German man – were confirmed dead after the boat carrying 32 tourists capsized. The vessel which was on its way from Anghong Island to Koh Samui was hit by a giant wave in strong winds, leaving some people trapped underneath the hull while others were thrown overboard.
Four holidaymakers are believed to still be in hospital on Friday 27 May. One has suffered a dislocated shoulder, another with a head wound, while two others are suffering from a lack of oxygen after being nearly drowned in the water.
The driver of the boat, Sanan Seetakaew, 47, has been arrested and charged with negligence causing death and injuries to others, which carries a 10-year sentence. Travel agent Amm Pontfuk, who worked with the Angthong Discovery Tour that Seetakaew works for, told the Press Association: "He is very concerned and professional, normally in bad weather he doesn't go out – he did not go out for three days already – and yesterday he thought the weather was OK and that was why he went out."
Pontfuk added: "The wind blew very, very strong and it made the boat go under the waves and flip."
© Copyright IBTimes 2023. All rights reserved.