Boko Haram terrorists have destroyed nearly 156,500 homes in the restive Borno state, north eastern Nigeria, according to the local governor. Kashim Shettima made the comments as he received building materials and food in Borno's capital, Maiduguri, on 24 May.
The items were donated by the National Commission for Refugees, Migrants and Internally Displaced Persons.
Shettima said the group had destroyed at least 156,453 houses, representing about 30% of the total properties in the state, according to the Vanguard newspaper.
"I want to say that the Borno State Deputy Governor came back from Banki, Bama and Pulka two days ago," he added.
"He was at those places to evacuate about 3,682 IDPs [internally displaced people] from Banki town to Pulka; we are also making arrangements to fix the Government Secondary School, Bama, for it to contain nearly 78,000 IDPs that have been kicked out of Cameroon."
Borno is Boko Haram's birthplace and the epicentre of its insurgency, which has claimed thousands of lives since 2009. The militants often raid and burnt to ashes villages and towns across the state, causing the displacement of thousands of people.
The group opposes Western influence in Nigeria and aims to impose its version of Sharia law throughout occupied territories. The Islamist outfit, affiliated to Isis, has often carried out attacks in neighbouring countries, including Cameroon.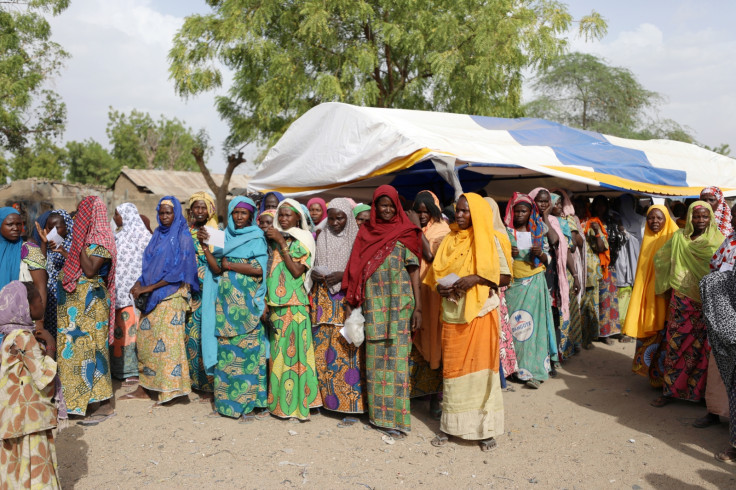 The United Nations (UN) says at least 20,000 people have died in Nigeria and neighbouring areas due to the insurgency.
The conflict has also displaced at least 2.1 million people. Of these, 501,000 were displaced last year, according to the 2017 Global Report on Internal Displacement.
At least 120,000 people are facing starvation due to what the UN described as a "catastrophic" man-made famine caused by Boko Haram. Of these, 78,000 are in Borno.
Earlier this year, the UN-agency Food and Agriculture Organisation (FAO) warned the crisis was likely to deteriorate between June and August.
However, the Nigerian government has accused the UN and aid agencies of exaggerating the extent of the crisis.
The views were echoed by Shettima, who alleged, earlier this year, that aid agencies were profiting from funds intended to help people displaced by the violent insurgency.
Boko Haram used to control territories the size of Belgium. However, Nigeria's ongoing military operation, Lafiya Dole, and a regional offensive – consisting of 8,700 troops from Nigeria, Niger, Chad, Cameroon and Benin – have scored some success, with soldiers recapturing key territories and releasing thousands of civilians held captive by the group.
However, on 13 May, a purported Boko Haram fighter released a video claiming that the militant group had been planning to carry out several bomb attacks in the Nigerian capital, Abuja.
---
Nigeria up close: Check out our Flipboard magazine
---