Aid agencies are profiting from funds supposed to help people displaced by the violent insurgency of Boko Haram terrorists, the governor of Nigeria's Borno state has claimed. The accusation came weeks after President Muhammadu Buhari accused the United Nations and organisations of exaggerating the extent of the humanitarian crisis in the Lake Chad basin region.
"People that are really ready to work are very much welcome here. But people that are here only to use us to make money may as well leave," Governor Kashim Shettima told legislators and journalists in Maiduguri, Borno's capital, according to AP. "We don't need them, since they are only here to use us to make money."
Shettima further claimed that only eight out of the 126 registered agencies were doing "good work" in the country.
He then accused the UN childen's charity Unicef of misusing funds by buying bullet-proof vehicles.
Unicef and other aid agencies have not yet commented on Shettima's remarks.
In July 2016, the UN temporarily suspended aid deliveries in Borno after some of its workers were wounded when Boko Haram ambushed a UN convoy returning from Bama town.
Agencies have often accused the Nigerian government of downplaying the scale of the crisis in the country's northeast, where thousands have been killed and millions displaced.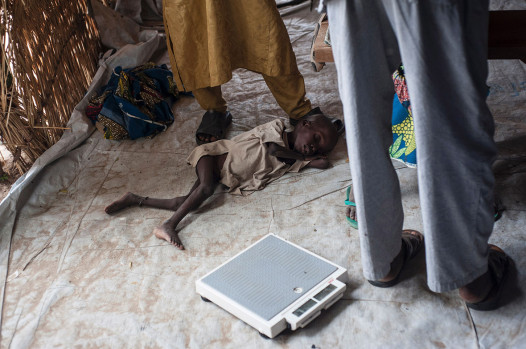 Lake Chad crisis
Boko Haram started carrying out attacks in Borno in 2009. However, the conflict soon spilled over into neighbouring states Cameroon, Chad and Niger.
The area, known as Lake Chad basin region, is one of the poorest of the world and is witnessing a deep humanitarian crisis exacerbated by the negative effects of climate change.
At present, at least 2.6m people have been displaced by Boko Haram and nearly 7m people are facing hunger and potential starvation,according to aid agencies.
In 2016, the UN launched a $1 bn (£783m) funding appeal to help tackle what it defined as "the largest crisis on the African continent."
The funds would help nearly 7 million people in the three Nigerian states most affected by violence, Borno, Adamawa and Yobe.
The UN further warned that nearly 5.1m people are expected to face serious food shortages , and at least 400,000 children are now at risk of starvation.
Who are Nigeria's Boko Haram?
Boko Haram, which has renamed itself Iswap, fights against Western influence in Nigeria and aims to impose its version of Sharia law throughout occupied territories.
The group launches attacks in Nigeria and neighbouring countries in a bid to take control of more territory. Three Nigerian states – Adamawa, Borno and Yobe − have been under a state of emergency since May 2013.
Boko Haram has killed more than 20,000 people since 2009 and was deemed the world's deadliest terror group, surpassing Islamic State in November 2015. Nigeria has also become the world's third-most terrorised country as a result of the group's violent insurgency.
However, Buhari accused the UN aid other organisations of spreading fears of 'non-existent' hunger.
Nigeria has recently announced its army had stormed the group's last known stronghold in the Sambisa forest, in Borno.
However, the claim was quickly dismissed by Boko Haram's contested leader, Abubakar Shekau, who accused Nigeria of spreading lies.
Boko Haram used to control territories the size of Belgium. However, Nigeria's ongoing military operation, Lafiya Dole, and a regional offensive – consisting of 8,700 troops from Nigeria, Niger, Chad, Cameroon and Benin – have scored some success, with soldiers recapturing key territories and releasing thousands of civilians held captive by the group.
Security analysts have pointed out that declaring a victory over the group is premature, given that Boko Haram is still able to carry out attacks and recruit people.
Experts also warned that underlying issues such as disenfranchisement, poverty and strong links with Islamic State (Isis/Daesh) would continue to pose major threats to stability in the region.
---
Nigeria up close: Check out our Flipboard magazine
---