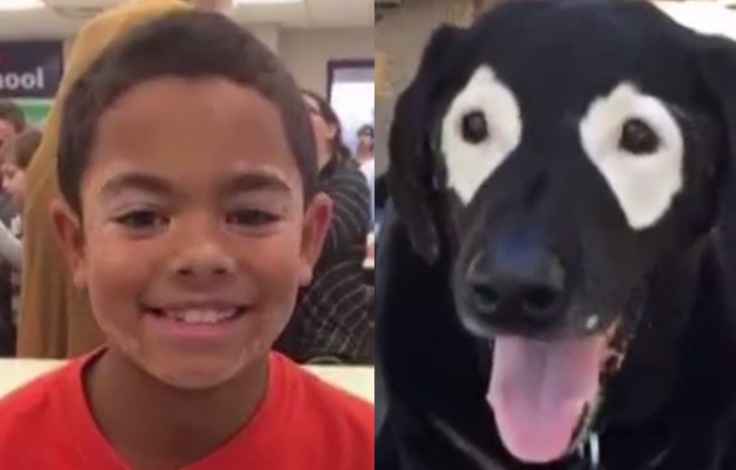 A boy from Arkansas and a dog from Oregon with the same rare skin condition became facetime buddies before meeting in person. Vitiligo sufferers Carter Blanchard and Rowdy are brothers in arms.
Labrador retriever Rowdy was born with all black fur. Then three years ago his owners noticed white spots emerging throughout his body.
"Around the age of 11, he started to get just a little white. I didn't think anything of it, I just thought he was getting old," his owner Niki Umbenhower said.
But they weren't ordinary spots — they were signs of a melanin deficiency. "The skin will develop a patch of pink or white, but it will lighten the skin in that area," Umbenhower said.
Meanwhile over 2,000 miles away in Arkansas, eight-year-old Carter was diagnosed with the same condition. His mother Stephanie Adcock said: "Carter was diagnosed and got vitiligo the exact same month and year that Rowdy did,"
Adcock described the trauma her son suffered when he received his diagnosis and had to come to terms with such a visible disorder.
"He didn't understand it, and the kids around him didn't understand it," Adcock told KTHV. "He would say to me things like, he hates his face."
Adcock was online when she saw a picture of Rowdy. "I was just strolling through, and I saw a picture of a really unique looking dog," she said. "And I didn't know what it was."
Adcock immediately contacted Rowdy's owner Umbenhower and they set-up the two vitiligo sufferers for a video call. Carter fell in love with Rowdy and immediately began to feel better about his disorder.
"Really, it was life changing for him. It changed his childhood for the better, it was a gift I couldn't give him. It couldn't be any other person that made him feel better. It had to be Rowdy, it had to be a dog," Adcock said.
Carter recently flew to Oregon to meet Rowdy for the first time. The pair hit it off famously and are now closer than ever.
"I have goosebumps when I think about the moment they walked through the door, I'm actually tearing up. It's amazing," Umbenhower told KATU.