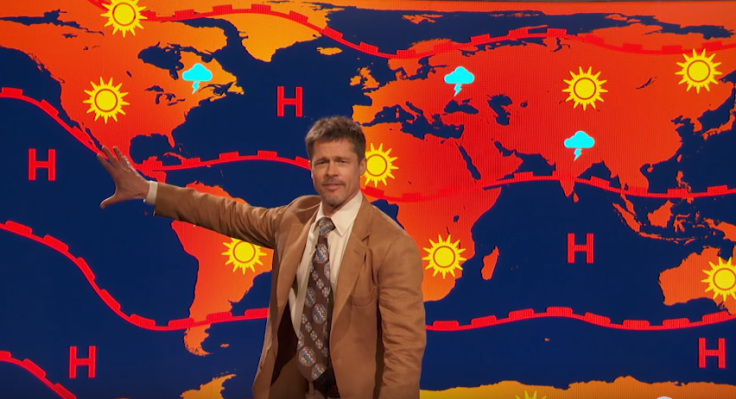 The future is in the 'Pitts', according to The Jim Jefferies Show's own weatherman. The talk show host introduced his guest forecaster, Brad Pitt who made a cameo appearance this week to issue a weather report reflective of US President Donald Trump's decision to back out of the Paris climate accord.
Turning to Pitt "to help us understand climate change and what it means for the world," Jefferies asked the actor to give his audience and idea of how things were looking up for the world.
Dressed in a frumpy tan suit and patterned brown tie, the Inglorious Basterds star stood in front of the green screen showing a fiery red map of the world. "So things are going to be getting warmer in this area here," Pitt said, gesturing to the area of the Eastern Hemisphere, "and this area here," as he waving his hand around the West as well.
"Do you have any future forecasts for us?" the Comedy Central host asked. "There is no future," Pitt replied, while still trying to hold on to his weatherman smile.
While the 53-year-old did the clip more for laughs, he is dead serious when it comes to environmental issues, and has lent his support to a number of causes including the Clinton Foundation, which has been working to draw attention to environmental and energy-related issues.
The actor, who is currently promoting his Netflix special The War Machine, has returned to the limelight following a lengthy hiatus during his very public divorce from Angelina Jolie. Since then, he has been touring across the globe for his movie which released on 26 May.