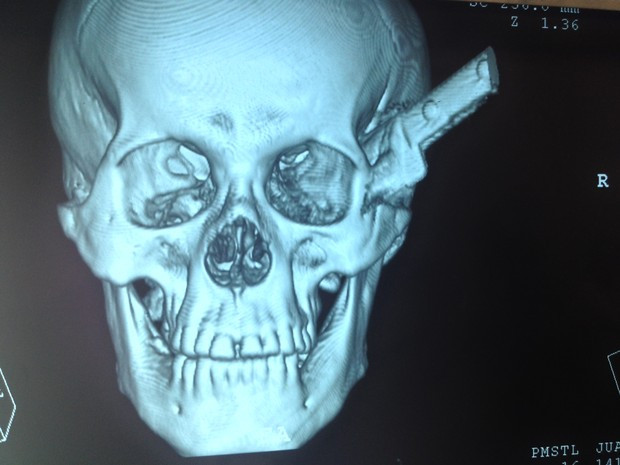 A Brazilian motorcycle taxi driver made his way to hospital with a 30cm dagger embedded in his head after being attacked by four men.
The knife just missed hitting Juacelo Nunes' left eye and passed through his mouth into the right side of his jaw, according to G1 news website.
"The knife passed through several nerves and veins, structures that can quickly kill a patient." said Gilberto Albuquerque, director of the hospital in Teresina.
The blade was removed and Albuquerque said the 39-year-old driver was recovering well.
Police are investigating the attack and examining the knife used to stab Nunes.
The driver sustained further injuries – two knife wounds to his throat, shoulder and chest when he was stabbed after an argument at the party in Agua Branca, 60 miles from Teresina, in northeastern Piaui state.
Nunes said he got into an argument with a man who shouted to three others to join in the attack.
"I did not see the moment of the stabbing, but at no time fainted and remained conscious even with pain," Nunes said.
"I thought I would die and only came to believe when I saw what happened to me, because if someone told me I would not have believed it.
Nunes' wife said she was amazed when she saw her partner with a knife sticking out of his head.
"I did not believe when I saw my husband like that," Francisca Pereira said. "I thought he was going to die. It was a miracle."
It's not unusual for stab victims to feel little pain from their wounds. Julia Popova was stabbed in the back with a six-inch knife but managed to walk to her parents's house in Moscow, according to a report in The Sun.
A doctor said: "Shock had kicked in and her body prevented her from feeling any pain. She simply walked home without feeling the knife in her back."