HBO's upcoming dark comedy series - The Brink starring Jack Black and Tim Robbins premieres this Sunday, 21 June. The show is all set to bring back the M*A*S*H kind of humour - which is "looking at world events through comedy".
Actress Carla Gugino (San Andreas, Wayward Pines) who plays Joanne Larson -- a Washington lawyer married to Secretary of State (Tim Robbins) -- recently spoke about how she ended up doing the series instead of leaving on a vacation with her boyfriend.
"I came back did some reshoots for Wayward Pines, and then looked at my boyfriend and was like, 'You may have never heard me say this in all the years of our relationship, but I'm ready for a vacation'. That day, I got the offer for The Brink. I read it and thought, what a great group of people," Gugino told USA Today.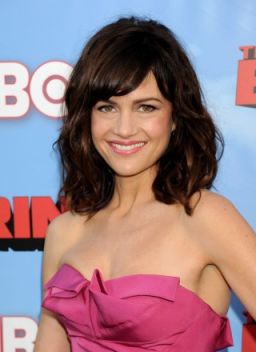 Talking about her role in the upcoming series, executive producer Jerry Weintraub revealed that he cast her in The Brink because she could hold her own against Robbins.
"Tim is cheating on her every five minutes. We needed someone who was hot and sexy and so on. And she's all those things, and a wonderful actress. And she's not dumb. She's very smart. She's never down. She's never depressed. I like that about her," said Weintraub.
As for her character and her complicated marriage to an also-cheating husband, the executive producer explained: "They have this genuine love for each other. They respect each other more than anyone they know. And yet they are having sex with other people. I think they make this open relationship work as well as they can, but that becomes slightly challenging in addition to the fact that Tim's character is so self-centered. The finale is kind of epic."
Created by Weeds veteran Roberto Benabib with his novelist brother Kim, the single-camera show aims to mine the humour in such unfrivolous topics as Pakistani regime destabilisation, US government war rooms and deadly accurate Navy pilots.
"We grew up with shows like 'MASH' that were able to look at world events through comedy," said Roberto Benabib [via Vindy.com]. "But then TV turned into a Seinfeldian place, where comedy was about interpersonal relationships. And we looked at each other and said, 'Why does it have to be that way? Why is the only satire you see in mock newscasts like Jon Stewart?'"
Starring Jack Black as a State Department flunkey in Pakistan and Tim Robbins as a loose-cannon Secretary of State, the 10-episode season of "The Brink" explores what happens when a maniacal Pakistani leader threatens a US ally, prompting a foreign-policy crisis.