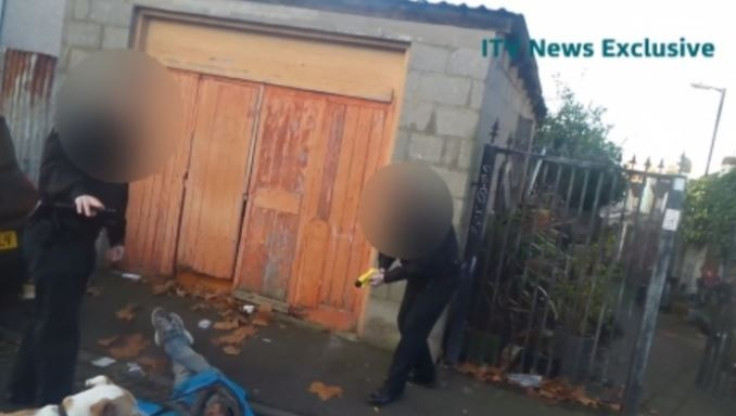 The police watchdog has launched an investigation after officers Tasered a race-relations champion who worked to improve links between the police and Bristol's black community. Grandfather Judah Adunbi, 63, was mistaken for a wanted man when two officers tasered him in Bristol on Saturday 14 January 2017.
Footage of the incident, filmed by a neighbour and given to ITV News, showed Adunbi refuse to give officers his name.
With one of the officers pointing a Taser gun at him, Adunbi can be heard saying: "I've done no wrong."
After one officer says he has no choice but to arrest him unless he gives his name, Adunbi replies: "Leave me alone and let me go about my business."
A minor scuffle follows as the officers prevent Adunbi from entering a nearby gate to go back to his home. One of the officers can then be seen tasering Adunbi, with the wired projectiles hitting him and causing him to fall to the ground.
The officer says: "Taser, Taser, Taser. You've been Tasered. OK?"
The Independent Police Complaints Commission (IPCC) says it is now looking into the footage and the conduct of the two officers. Avon and Somerset Police, which referred the matter to the IPCC itself, said the incident was also captured on the two officers' body cameras.
Adunbi later said he felt humiliated at being mistaken for the wanted man, adding that he thought he was going to die when they Tasered him. He said: "At first you don't accuse someone of being someone else. You ask questions. The first thing they should have done is come to me in a polite manner. The way they approached me – they were accusing me. That is wrong."
He added: "It's a little distasteful in my mouth. To know that one of the founder members of the Independent Advisory Group, which was created some years ago in order to improve better relationship between the AfroCaribbean community and the constabulary, and to be treated like this – it's difficult."
Chief Superintendent Jon Reilly of Avon and Somerset Police told ITV News: "I understand the community are going to have concerns. And we'd really like to answer those. But as there's an ongoing investigation that's very difficult for us to do.
"I want to reassure the community the whole incident was captured on body-worn camera. Both officers were wearing it. And we're determined to understand what happened.
"That's why we've referred it, voluntarily, to the Independent Police Complaints Commission for them to assess whether an independent review is necessary. We work really hard to work positively with all communities and I see no reason why that should change."