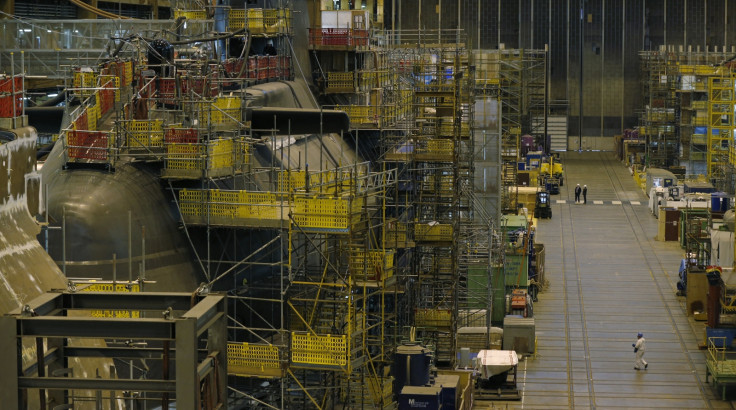 The delivery of HMS Audacious, the navy's new state-of-the-art nuclear submarine, is to be delayed by 10 months, as it emerges the cost of the £1.6bn ($2bn) programme to build four of the vessels has soared by £200m.
And Ministry of Defence (MoD) report has shown the Royal Navy's fourth Astute-class nuclear submarine will not enter service for at least another 10 months.
The development, which could see the UK's crucial fleet of hunter-killer submarines fall from seven to six, comes following a report in the Sunday Times showing the programme has been dogged by inefficiencies.
The newspaper has said equipment failures and procurement foul-ups have left the UK without the necessary vessels to defend against serious military attack.
The Royal Navy's hunter-killer fleet, at present Trafalgar class subs that are due to be replaced with the new Astute boats, are used to track other submarines – in particular to Russian naval vessels – and destroy them in time of war. The vessels also protect Britain's other battleships and nuclear submarines.
The MoD has said the costs of Britain's defence equipment increased during 2015-16, with the largest annual jump of £249m found in the £1.6bn project to build nuclear reactors for submarines and retool the Rolls-Royce facility where they are made.
The factory, near Derby, is building the reactors for the first of four Dreadnought submarines which will replace the Vanguard submarines, which form part of the UK's Trident nuclear weapon programme, and are scheduled to be rolled out in 2028.
The increase in costs are higher than it first appears: the overall increase of £237m was offset by a fall of £257m during 2014-15 in other areas.
Defence experts have said the prospect of fleet reductions is concerning.
"I think it is highly likely — and this is worrying — that we will drop below having seven," said Lord West, a former navy head told the Sunday Times. "I think we will drop to six. To keep two operational at sea, it is quite a push with seven, and you can only do it for certain periods with six."
As a result of the smaller fleet size, the existing subs and their crews will have to spend more time at sea placing greater strain on the boats and manpower.