The moment Bruce Jenner announced to his family that he is planning to live his life as a woman, will be shown on a forthcoming episode of Keeping Up With the Kardashians.
It has been long speculated that the former Olympic athlete has been undergoing gender reassignment, however he has not yet spoken publicly about his decision.
The 65-year-old turned to his family for support as he made the announcement during a family gathering in which he broke the news to Kendall, Kylie, Khloe and Kim Kardashian. E! cameras captured the moment, as Jenner explained his changing life choices.
According to Us Weekly the former sports star was 'very matter-of-fact' as he addressed the subject. "He literally started the conversation with, 'Hey, guys, I'm becoming a woman, but I'm sure you probably already figured that out,' a source told the magazine.
'"There was so much speculation, and they were all wondering about the truth. Bruce had to address it with them," the source added. "He got a little emotional, but it wasn't a jaw-dropping conversation," the source said, adding that "it's a surprise to the girls that he's doing this at 65."
Bruce has apparently been slowly transitioning into a woman. Speculation as to his changing appearance first mounted after he reportedly had his Adam's apple surgically reduced, a common procedure often undertaken by men seeking gender reassignment. The 65-year-old reality star also allegedly started taking oestrogen and underwent a series of physical changes, growing his hair long, sporting hot pink nails and appearing with clean shaven legs, all contributing to his increasingly feminine appearance.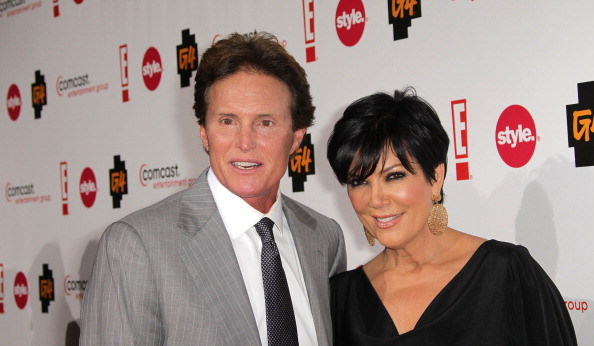 According to Us Weekly the announcement resulted in a mixed reaction. Kendall, 19, told Bruce to 'just be you' while Kylie, 17, also stood by her father. The source said: "They want nothing more than for their dad to enjoy the life he wants to live."
Khloe, 30, apparently was unsurprised by his statement, and had been aware of Bruce's feminine side. "It all suddenly makes sense to her," the source told the publication. Kim, 34, and Kourtney, 35 were said to be rather more reticent about his decision.
The source claimed: "Kim had been thinking, 'What if Kendall had an event and Bruce shows up in a dress? Won't that steal her attention?' " It was suggested that Kourtney, who recently welcomed a son named Reign with long-term partner Scott Disick, was said to be 'so wrapped up in her kids and new baby... she doesn't care what Bruce does."
Of all the Kardashian clan it seems the person most perturbed by the news was Bruce's ex-wife Kris Jenner, 59. The couple who were married for 22 years announced in 2013 they were to separate. Their divorce was finalised in June 2014. "Deep down, Kris feels betrayed," the source said.
While Bruce was reported to be in negotiations to publicly talk about his gender reassignment on a televised interview, the proposed TV special was postponed after he wasinvolved in a fatal car accident in Malibu.
Bruce's announcement will be featured in episode 13 of Keeping Up With The Kardashians which airs on March 15 . He is also filming a docu-series chronicling his gender transition.