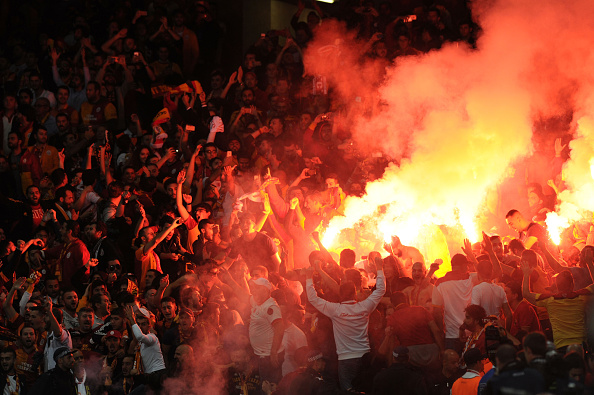 Police arrested seven Galatasaray fans on Wednesday 1 October after angry supporters threw flares on to the pitch during their side's Champions League defeat to Arsenal.
Angry scenes erupted in the away end after Danny Welbeck scored Arsenal's second goal in a 4-1 win over the Turkish giants.
The match had to be delayed after flares rained down on the pitch covering, the Emirates in a blanket of smoke.
Amid wild scenes, Galatasaray's goalkeeper Fernando Muslera and captain Wesley Sneijder cleared the pitch of flares and urged their supporters to calm down.
Violence sparked prior to kick-off after flares were thrown near to the Tollington pub in Hornsey Road, north London.
Two men were arrested before the game for attempting to enter the ground with flares before another five other men were arrested: one for criminal damage, one for being wanted on warrant, two for public order offences and one for throwing a flare onto the pitch.
The Metropolitan Police said it will review CCTV from inside the stadium and in the surrounding streets to identify anyone who committed offences.
Fears had been raised before the match that rival Galatasaray and Besiktas fans would clash in north London ahead of their respective games this week.
Almost 6,000 travelling fans were expected to arrive in London for either the Arsenal match or when Besiktas face Tottenham in the Europa League on Thursday 2 October.