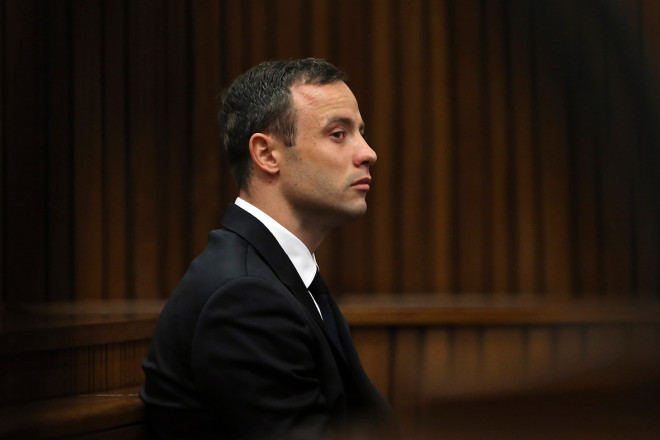 Oscar Pistorius was duped into calling himself a "liar" by prosecutor Gerrie Nel during another torrid day in court for the murder accused runner.
Nel continued his line of attack from last week by seeking to destroy the Bladerunner's credibility on the first day of his second week in the witness stand at North Gauteng High Court.
Pistorius ended up calling himself a liar during an exchange about how loudly he had spoken to Reeva Steenkamp shortly before he claimed he accidentally shot her on Valentine's Day, last year.
Comparing Pistorius's testimony to his earlier statement, Nel asked the 27-year-old if he "whispered" to Steenkamp, 29. The runner replied that he had spoken in a "low tone," to which Nel then replied by asking: "Would a person be a liar if they said you whispered?"
Pistorius answered affirmatively and then Nel stuck the knife in, saying: "Someone did say that Mr Pistorius; it was you." The prosecuting lawyer revealed Pistorius's account in the dock differed from what he wrote in earlier statements.
It was a low point among a string of setbacks for the Olympian and Paralympian runner, who has failed to acquit himself well during a lengthy spell of searching questions, observers say.
Pistorius spoke about combat training he had received while describing the posture he adopted when he went to the bathroom with his gun in his hand. That led Nel to question why Pistorius had not verified who was behind the door when he opened the door. Nel said: "Being a trained person the court will expect you not to fire. If you tell the court you're trained, the court will not accept easily you made a mistake."
Pistorius denies pre-meditated murder and claims he mistook Steenkamp for an intruder inside his luxury home on the outskirts of Pretoria. The prosecution alleges he killed her following an argument between the couple.
Pistorius also faces charges of illegally firing a gun in public and of illegally possessing ammunition, both of which he denies.
There are no juries at trials in South Africa, and his fate will ultimately be decided by the judge, assisted by two assessors.
The trial continues.