A convicted burglar has been handed an additional jail term after £31,000 ($41,560) worth of spice, cocaine, heroin and steroids was found in his prison cell, along with 11 mobile phones and SIM cards.
Simon Davies' prison cell, at HMP Preston, in Lancashire, was searched in March 2016, just two months after he went to jail, where the huge haul was discovered.
The 44-year-old from Bolton, Manchester, was serving four-and-a-half years at the category B prison for burglary, which involved the theft of war medals from a house in Turton.
However, this sentence has now been extended for another six years at Preston Crown Court, which he will serve when his previous sentence concludes.
Specialist sniffer dogs were let into his cell where 11 small mobile phones, SIM cards, £19,000 worth of spice, £4,500 cannabis, £6,100 of heroin, £1,500 cocaine and around £1,800 worth of steroids were found by staff.
Davies pleaded guilty to possessing drugs with intent to supply and possessing a mobile phone while in prison without authority.
Police say that the smuggled contraband was "destined" to be sold to other prisoners.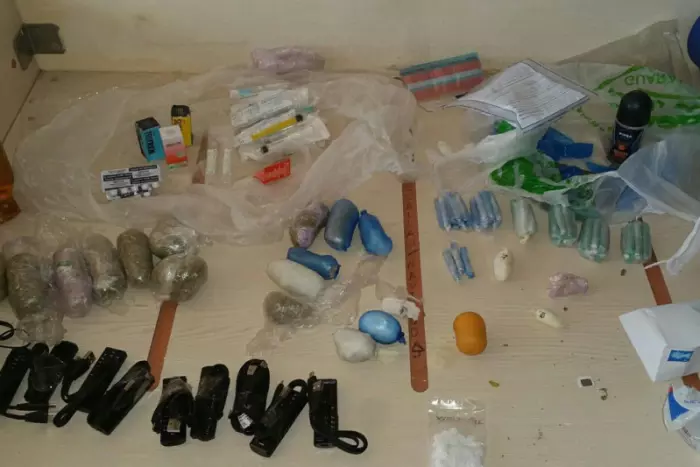 Lancashire Police's Det Con Justin Singleton, from Preston CID, said: "The items found in Davies' cell could have been extremely dangerous and it is lucky that they were seized before they were sold on.
"I am pleased with the result and hope it sends a clear message to criminals thinking of either smuggling illegal items or drugs into prison that they will get caught and brought to justice."
Pictures taken from inside the cell show the drugs wrapped up in bags, with needles also found in the cell.
A Lancashire Police spokesman said: "The items were found by prison staff hidden in the cell with the help of a prison drugs dog. It is believed that the items were smuggled in and were destined to be sold to other prisoners."