Criterion Games have taken to their blog to explain the origins of Takedowns in the Burnout series, a feature that ended up defining the beloved racing franchise before it was seemingly consigned to the annals of history.
Takedowns allowed players to take out other vehicles in the race, resulting in them crashing and crumpling in the glorious style that made the series such a huge hit during the PS2 era. They were first introduced in Burnout 3: Takedown (hence the name) but the feature had huge ramifications during development.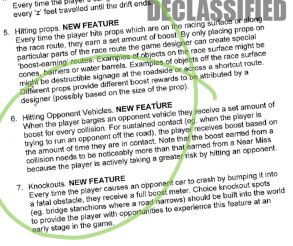 "Initially there were doubts," reads Criterion's blog. "Would aggressive driving change the Burnout racing experience? Would it mean we'd have to change the way we built the tracks to put obstacles on the track? Would it mean a lot of extra AI work to get battling to work?
"The answer to all of those questions turned out to be yes, but when Burnout 3: Takedown was finished in September of 2004, the results were worth the effort."
Takedowns were originally called Knockouts in the game's design document, a scan of which was uploaded by Criterion and which you can see to the right of this article.
So close to E3 the post may well cause some speculation about a potential Burnout return seven years since the last game in the series Burnout Paradise. However Criterion revealed at last year's EA press conference that they are working on a new IP which will feature a mix of vehicles. Nothing has been seen from that game since though, so the state of the project is currently an unknown.