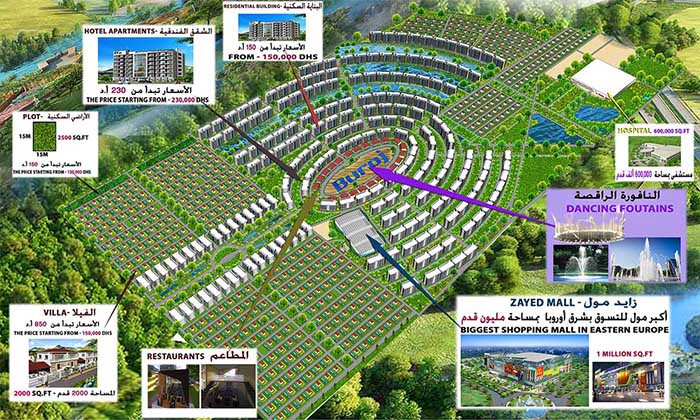 Dubai-based property developer, Buroj Property Development has signed a $5.1bn (£3.3bn) contract to build a "tourist city" in Bosnia, a country which is seeing a lot of investment interest from the United Arab Emirates (UAE). Buroj plans to build thousands of homes, several hotels, a shopping mall and a hospital in the town of Trnovo, which is at the foot of the Bjelasica mountain and has a population of around 2,000 people.
Ismail Ahmed, president at Buroj said "I sincerely believe in this because I am convinced that Bosnia is an important global tourist destination that has yet to be discovered. This is my life project and I hope that we will finish it without delay." The work on the 1.3m sq Buroj Ozone City, is expected to begin in April 2016.
According to Buroj's plans, the shopping mall would be the biggest in all of Eastern Europe and will feature a lavish "dancing fountain" in the centre. A three-bedroom villa in Trnovo would cost about £170,000.
The Balkans country of Bosnia has a population of 3.8m, 40% of whom are Muslim. Its tourism industry has witnessed high growth in recent times, with the majority of visitors flying in from the gulf states of UAE, Qatar and Saudi Arabia.
The country is not new to large project developments by Gulf countries. A $30m Kuwaiti-funded tourist resort around 18 miles from Sarajevo is scheduled to open today (17 October). Also, a Saudi company's residential project housing 200 villas in the hills of Sarajevo is slated for completion by the end of 2016.
Other countries where new cities are being built include the US state of New Mexico where Center for Innovation, Testing and Evaluation (CITE), a ghost town has been planned at a cost of $1.4bn and would serve as a fully functional test city. While in China's government is converting sparsely populated landscapes into cities where it plans to rehome more than 100 million people from its rural areas within the next 10 years.