Burundi has banned the country's oldest human rights organisation, Ligue Iteka (Iteka League), amid a crackdown on critical voices.
This government decision comes less than three months after President Pierre Nkurunziza withdrew permits from another prominent rights organisation and several other non-profit groups.
Iteka League, along with now-banned APRODH and FOCODE, was among a number of organisations to condemn President Pierre Nkurunziza's decision to run for a third term in 2015, claiming it was unconstitutional. The government, in return, accused the group of siding with the opposition.
Following the previous crackdown on independent media, and blanket ban on civil rights groups, there are only few remaining organisations capable of carrying out reliable investigations into rights violations of an increasingly isolated population in the capital and, more importantly, in more remote areas of the country. Iteka League was one of them.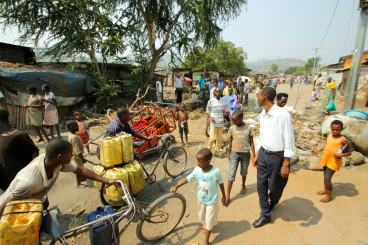 Since its foundation in 1990, Iteka League had become one of Burundi's most established
and active human rights organisations, conducting monitoring on the full range of human rights concerns in Burundi. Its observers were based around the country, documenting individual cases of killings and extrajudicial executions, torture and other abuses.
The AFP news agency reported a ministerial order accusing the Iteka League of "continuing to tarnish the image of the country and sowing hatred and division among the population", it adds.
In partnership with the International Federation for Human Rights (FIDH), Iteka League in November published a report in which it described alleged state-sponsored violence.
The organisation's treasurer, Marie Claudette Kwizera, disappeared just over a year ago, in December 2015. She is still missing. The FIDH launched the online campaign #FreeMarieClaudette and #SaveMarieClaudette to put pressure on Nkurunziza's goverment, and highlight how Kwizera's disappearance is reflective of the regime's deepening crackdown on resistance.
Hundreds have died since Burundi sank into political chaos in 2015.