Hundreds of civilians have been taken away by security forces in Mugamba Commune, south-western Burundi, in what witnesses have described as an "alarming situation" on 21 April.
Nearly a year after Burundi was plunged into chaos, peace efforts are deadlocked between a divided opposition and the regime, which is in the hands of hardliners who have been linked with ruthless repression and systemic human rights violations.
Mugamba, reputed to be primarily Tutsi, saw a protest movement against President Pierre Nkuzunziza's third mandate in 2015. Sources have described a number of arrests in the locality over the past months. Armed groups are also reported to have attempted or carried out attacks in the province, but IBTimes UK is unable to confirm which group may have been behind the attacks.
The police raid comes less than a week after an attack on members of the ruling party youth league known as Imbonerakure that left six dead, which was in turn followed by the death of two civilians. Attacks by gunmen have left at least five people dead across the country on 20 April.
150 arrested and taken away by police
"From 3am this morning, a large number of police have taken away an estimated 150 men and young women. They didn't ask anything, but just embarked them aboard their vehicles and took them to an unknown destination," a source told IBTimes UK.
A local journalist confirmed "every youth, teacher, civil servant and retiree is arrested and taken towards the local prefecture and then onto an unknown location".
According to the source, "after the police killed two people in retaliation against the death of the Imbonerakure, they are continuing with their vengeance".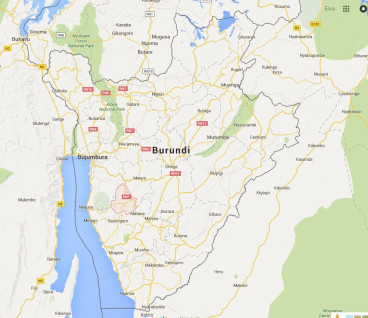 "When police suspect that there are armed groups in the commune, and they don't know who the people are, they take away everything that moves".
By 13:57 (12:57 GMT), most civilians had been released, but dozens of them were still unaccounted for, according to independent journalist network SOS Media Burundi.
CNARED: 'Number of disappearances increasing'
The Council for the Observance of the Constitution, Human Rights and the Arusha Peace Accord (CNARED), an alliance-in-exile of several opposition movements, described the attack against the Imbonerakure as a travesty, which it alleges was used to justify this morning's raid.
"The raid is a sort of repression after the apparent attack against the Imbonerakure. These are tactics that have been widely used. When the regime wants to target a part of the population located in a certain area, attacks are simulated. Then the police and intelligence services come to attack the so-called perpetrators of the attacks," the coalition's spokesman Jeremie Minani told IBTimes UK.
"This modus operandi has always been used to target people in areas described as dissenting," he said, adding the tactics had been observed in Ijenda (in the region of Bujumbura Rural Province, in the south-east of the capital) , and southern provinces including in Mugamba (Bururi Province in south-western Burundi) and Makamba province.
"The number of disappearances in these areas, although less reported than those in the capital, have increased to an alarming extent. It's moving towards what is happening in Bujumbura, where the regime is oppressing youths it believes are against it."
At the time of publication, IBTimes UK could not join army spokesman Gaspard Baratuza. Deputy police spokesman Moise Nkurunziza, meanwhile, was waiting for further details before making a statement.
The bloody crisis that has seen up to 900 people killed, pits supporters of Nkurunziza against those who say that his re-election in July 2015 for a third term violated the nation's constitution. After a failed coup, the government intensified its crackdown and most of those arrested or disappeared today are young men and women accused of participating in or supporting opposition groups, including armed groups whose attacks have also left dozens dead.