Caitlyn Jenner has opened up about her struggles with dating. The reality TV star – who was married three times – recently revealed she could see herself in a relationship with a man in the future.
In a forthcoming episode of her reality TV series I Am Cait, the 66-year-old is seen on a night out at a bar in Chicago with friends as they explore the dating pool. While Candis Cayne and Zachary Drucker are seen chatting to a group of men, Caitlyn reveals her discomfort. "I'm uncomfortable. It's in the middle of such a public place," she tells her stylist.
Persuaded by her friends to talk to at least one man, she strikes up a conversation with a man named Joe at the hotel bar. Following an awkward conversation about his job, she quickly ends the interaction by shaking his hand. Clearly finding the whole experience uncomfortable, Caitlyn leaves without saying goodbye, leaving Joe sitting at the table with the other ladies.
Explaining her issue with flirting and dating, the star said: "For me the big problem that I have, with a lot of things, is rejection. [It's] probably one of the reasons I didn't date that much."
Candis, who was earlier rumoured to be in a relationship with Cait said the TV star needed to master the art of flirting. "Caitlyn doesn't really know how to talk to guys at all. With a flirt... she doesn't know how to follow, she wants to lead. Sometimes when you're talking to guys you have to take the backseat a little bit, I don't know if she's ready to do that."
Earlier on the show Caitlyn candidly discussed her feelings after she said: "I can't see myself dating women in the future. I've been there, done that, got three very strong ex-wives." When her friend Jenny suggested she could add an ex-husbandinto the mix, she joked: "That's right. Now I can have an ex-husband. I don't see a woman being attracted to me."
However, she admitted that the public scrutiny would make any prospective partners wary. The former Olympian admitted that she is uncomfortable talking about her sexuality. "Talking about my sexuality is really difficult for me and I want to literally shrivel up and hide inside me."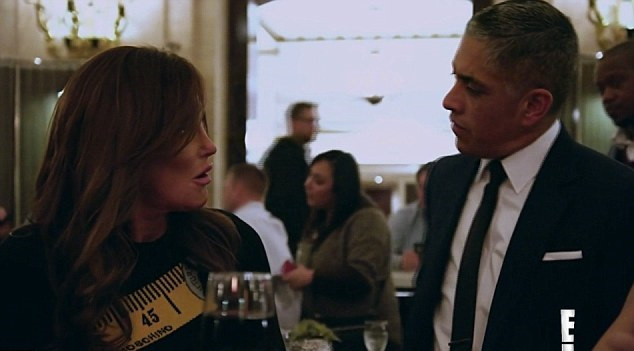 In a recent interview, the star who underwent gender reassignment in 2015, said that embracing her true self has not changed who she is on the inside. "This woman who I am now has lived inside me for all of my life, but Bruce is inside me, too," she explained. "I still fly planes and I still go to the racetrack. I still do all that fun stuff and why not? Girls can do it too. I still have my same views, my same relationships with people – all of that is the same.
"One thing that has changed is that I am much more comfortable in going out in public. In the old days, I never went out, even with the family – I dreaded it. These days we are going out. Going to dinner, going to an event, being with my girls. Life's become much more fun."
I Am Cait airs on E! on Sunday nights at 9pm GMT.