Calais' forgotten children ask Europe 'where is left for us to go?'
Unaccompanied children in the Jungle migrant camp tell IBTimes UK of their fears for the future amid demolition threats.
"I have been waiting for help from the British government for 12 months and I am going crazy. I don't even go to lorry jump now because I have just lost myself." These are the distressing words of Mamad, 16, one of the 1,022 unaccompanied children living among adults in Calais' refugee camp, the 'Jungle'.
His story is one of tenacity. He fled his native northern Afghanistan after Taliban insurgents invaded his mountainous village in the volatile Baghlan province. Mamad travelled through multiple countries to end up sleeping under a tent in Calais, where thousands like him are increasingly desperate to make the trip across the channel into the UK by sneaking on-board lorries.
Acting boyish among his friends on the sand dunes outside the camp's wind-swept makeshift homes, Mamad may look dauntless, but his burning eyes and the lines of his face betray a childhood that was never allowed to be lived. One the way to Europe, Mamad claims his cousin, the only relative he was travelling with, was shot by Iranian police officers and died.
No access to health and mental care
Mamad thought Calais would be the end of this hellish journey, and that the port city would open the doors to a new life in the UK, where he believed he could instantly acquire the effective status of asylum seeker before applying for a work permit. However, the young boy once full of aspirations, today sounds deflated; he is suffering from deep depression.
"I have seen many guys, who had been staying with me in my place; someone who's already passed to the UK and someone who's already dead. He passed his life here, and I am crying about these people.
"Sometimes when I come to the Kids Cafe (a charity-run restaurant providing free warm food and a safe place for the children), I'm a little bit happier but when I go in the night and I'm alone, I'm feeling scared and desperate and I start crying in the night," Mamad says, pulling out his phone on which he scrolls to the picture of his late teenage cousin.
"I even started smoking; even if I'm not 18. I'm 16 and not allowed to smoke, but ... I don't have another solution. Then I stay smoking and crying alone by myself because if I speak in front of the people I'm ashamed. I don't know what this life is. The Jungle is for animals, not for us."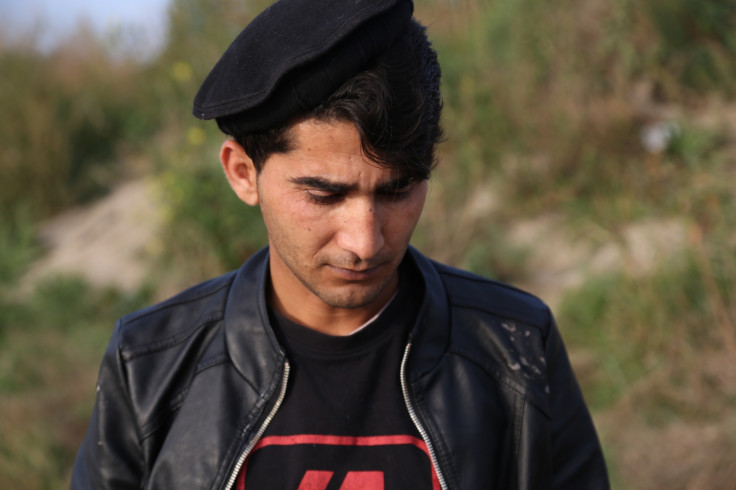 One of his friends, 14-year-old Zab from Afghanistan, has been in the camp for 13 months and still relentlessly tries to jump aboard lorries every night. Shaking his head, he too says he suffers from mental health problems. "This may happen if we stay one month or two months here, maybe we get crazy immediately because we try to go to England, climb on the lorries, but the police don't give us any chances."
While organisations such as Medecins Sans Frontiere (MSF) and Doctors of the World provide mental healthcare to severely traumatised refugees, these teenagers say aid agencies are struggling to help everyone. Claiming the authorities have abandoned them, the teenagers allege they have also been denied proper healthcare.
Listing his problems, Mamad explains he was never treated for kidney problems, and was never tended to when he was injured following a police "beating", or when he fell off a lorry.
"The fourth (problem) is that they won't take me in the hospital. They say it's full now, come another day." Mamad explained that Marie-Jeanne, one of the aid workers who helps give medication to people within the camp, took him to the hospital three times and he was not given a chance to stay there.
Victims of violence and abuses
Among the masses of refugees living in the sprawling camp, it is easy to forget these youths are children. Like many of the unaccompanied minors in the camp, Mamad and Zab have found themselves living in squalid conditions with other refugees - some younger, many much older - effectively putting them at risk of physical or sexual abuse and violence.
Ahmad, 15, also from Afghanistan, explained: "We have a problem in the camp because we are staying with adults and we should be staying in children's places, but because [the authorities] didn't have a place that's why we stayed here".
Rahmatallah, 14, who fled Afghanistan within the last 12 months, says: "We have lots of problems here because we are under 18, we are children. If someone is older and we have something nice, they can take it from us by force. We're in very bad situations."
He says he has seen other lone boys either leaving the camp because conditions were too difficult, or disappearing. "Yes, I've seen that. A boy left and went back to Paris, because it was too difficult, he was scared and he left,."
Picking up an empty tear gas canister, which he alleges was thrown by French police during clashes with protesters and refugees, Qais, who arrived in the camp as a minor after fleeing Herat in Afghanistan, leads on his friend Amanullah, 14, to speak.
"I have one message for the British government. We have a friendly request to please pick us up from here [and take us] to the UK. Our second is for the French government; that when we are jumping in [the lorries], please don't use the spray on us," Amanullah says, referring to tear gas.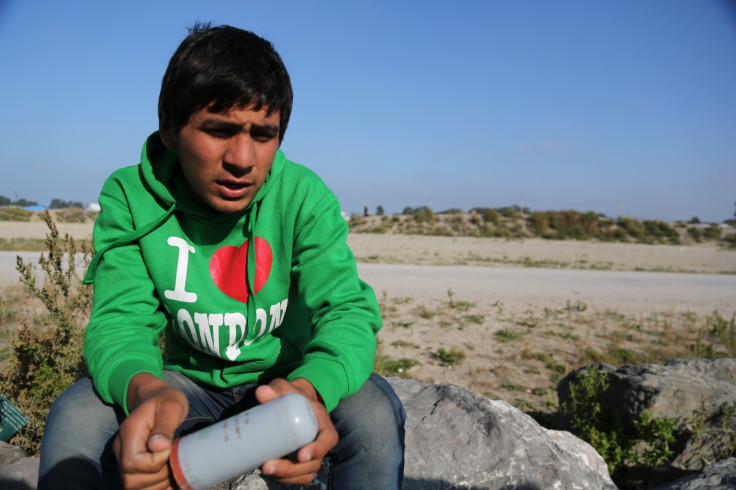 David, an 18-year-old Eritrean orphan whose family moved to Ethiopia when he was four because of political instability and violence, and travelled to France from Sudan via a smuggling boat from Libya to Italy, describes hatred and racism towards the children of the camp.
In Germany, through which he travelled to reach France, he says 60% of the people treated him well. In Calais, he says he has faced the worst abuse, including from passengers of Thalys, the international high-speed train which links Calais to Amsterdam. "Thalys people are not good. And people in cars [taking the Eurotunnel] honk and then give me the middle finger, telling me 'f**k off'. So 50% of the people in France are not good."'
His bottom lip trembling, Mamad says: "We need a place to take a shower, we need a place at least to go to school, we need to go somewhere to learn something - not to come and stay in the Jungle."
Except for a number of vital education programmes run by the Jungle Books Library and Baloo's Youth Centre, youngsters receive no formal education within the camp.
Under the United Nations Convention on the Rights of the Child, children have rights to the resources, skills and contributions necessary for their survival and full development. These include rights to "adequate food, shelter, clean water, formal education, primary health care, leisure and recreation, cultural activities and information about their rights".
Speed up protection for every child, says activists
According to Mary Jones, a British teacher who set up Jungle Books last year and is responsible for the Kids Cafe, life is about to get much harder for these children as she estimates President Francois Hollande's planned total demolition of the camp – believed to take place later this month – will have dramatic consequences for the hundreds of lone minors.
While around 180 children have been identified by aid agencies as being entitled to claim family reunion connections with the UK, Jones describes how the British authorities were delaying in bringing the vulnerable youngsters to the country. The French authorities are yet to set out provisions for the hundreds of other youngsters.
Speaking one after the other, the children raised concerns about their future if the camp is demolished. Amanullah puts it simply: "It's not good for us because we'll have to sleep in the streets because we don't have any place to go."
Hassan from Sudan says: "I don't know [where I'll go] because I don't know anybody here in France and I don't know what I will do. Bad things, yeah". 15-year-old Ahmad begs: "We don't have a place to sleep, we're under 18, we need a place to sleep."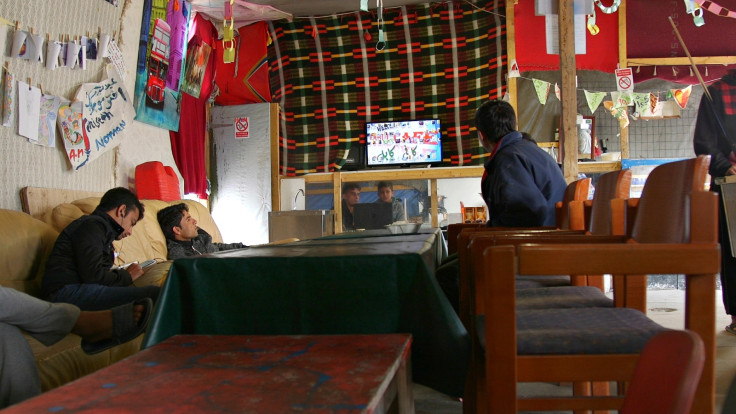 Jones, who is campaigning for children to be taken out of the camp before it closes, says: "There could be a small or partial demolition, there could be a full demolition. We're really in the dark about what's going to happen but we just have to be prepared for anything."
"So basically, the kids probably will scatter, they've already started to say they're going to get on a bus and go to Paris or disappear often to different places. So what we are trying to do is a catch 22. [We are] asking them stay here, which is not perfect for them, until we are absolutely sure that they are taking the best option for them.
"For those kids who've got family in England and their families are waiting for them to come over and the process is taking so long, we are trying to find out where they are in that process and make sure they don't just disappear because then the families are worried; the families at home are worried, we're all worried. We've got to at least get them part way through the process."
The humanitarian is urging the British government to speed up the family reunification process, asking politicians to keep the pledge to accept unaccompanied child refugees. She is also hoping French authorities will "conjure up a special space for all of these kids who are here right now so we could just put them there during this time of uncertainty, so we know how we can advise them; keep them safe whilst this is happening."
© Copyright IBTimes 2023. All rights reserved.