Update: Eurogamer sources have confirmed to the publication that the leaked posters are legitimate and the next Call of Duty will be called Call of Duty: WW2.
Original story: Unverified promotional material alleging to be for this year's Call of Duty title has appeared online, potentially revealing the title and setting of the next game in Activision's enormously-popular first person shooter franchise.
Supposedly called Call of Duty: WW2 (it may be a working title) if the validity of the leak is verified it would confirm the popular belief that the series is heading back to the Second World War for its latest iteration.
The images were first revealed by under-the-radar YouTube channel TheFamilyVideoGamers, who were sent them from an anonymous source claiming they came from someone "very close to the project at Sledgehammer."
Sledgehammer Games will develop this year's Call of Duty, its first since Advanced Warfare in 2014.
The images depict soldiers on Normandy Beach during the D-Day landings of June 1944. The events have been depicted before in the series, but not for well over a decade. Box art for various Steelbook cases are also shown. These are potentially prototypes for special editions of the game.
The images also appeared on Reddit, hence the watermark. The person who published the images claims to be the same person who leaked the existence of last year's Call of Duty and the Modern Warfare remaster that launched alongside it.
Last year's title, Call of Duty: Infinite Warfare, was a future-set science fiction game that took the game into space for the very first time. It sold extremely well compared to most games, but not extremely well for a Call of Duty.
Infinite Warfare simply didn't connect with audiences in the same way past games like Black Ops 3 and Advanced Warfare did.
In February, Activision executive Eric Hishberg said during a company investor call that Infinite Warfare "didn't resonate" with the series' fans and that sales-wise "it wasn't the success we planned".
He also revealed that the series would "go back" to its roots for the 2017 game. This was assumed to mean the series would be set during a historical conflict.
The original Call of Duty back in 2002 was set during World War 2, as were subsequent games until 2007's Call of Duty 4: Modern Warfare, a contemporary shooter that kicked the series' popularity to another level and set the template for future games to come.
The last Call of Duty set during the Second World War was Call of Duty: World at War in 2008.
This year's Call of Duty, whatever it may be, is expected to be released in November - in line with previous years.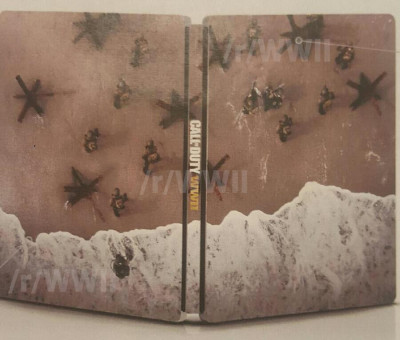 For all the latest video game news follow us on Twitter @IBTGamesUK.