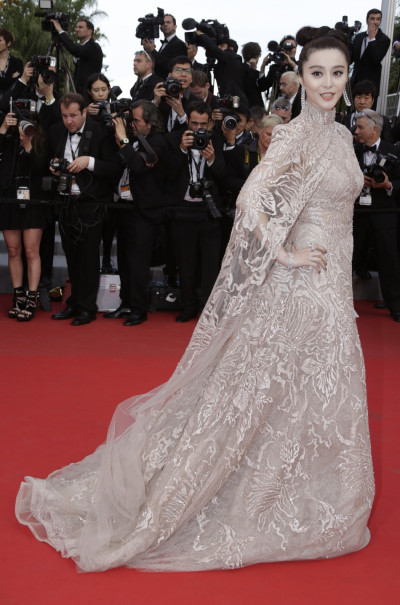 The second day of the 65th Cannes Film Festival began with photo calls for two films - Rust and Bone and After the Battle.
Rust and Bone stars French actress Marion Cotillard, who plays a whale trainer in a Cote d'Azure marine park. She is attacked by a rogue whale rendering her legless. She then develops a relationship with Ali (Matthias Schoenaerts, a Belgian actor), a security guard with a young son. The only problem is Ali has a disturbing fondness for excessive physicality and brutal force.
On the red carpet, Slumdog Millionaire actress Frieda Pinto came in a citrus-coloured Atelier Versace gown with a thigh-high split and former Desperate Housewives star Eva Longoria wore an Emilio Pucci white gown. Veteran actress Jane Fonda, who dazzled the crowd on the first day, defying her age to wear a stunning and body-fitting Atelier Versace outfit, wore a piece from the Stella McCartney 2012 London Evening collection. According to the Telegraph, the dress was an Ivory Stretch Cady Gloria creation that offered interesting optical illusions.
Meanwhile, Chinese actress Fan Bing Bing looked royal in her Elie Saab Haute Couture and French actress Virgine Ledoyen shone in a simple black strapless gown. Princess Clotilde Courau, another French actress, looked gorgeous in a strapless, belted gown.
Long gowns were the trend on the second day, in a repeat of the first. Most celebrities wore figure-hugging long sheer outfits that sat well on trim bodies, creating an aura of elegance and style.
In terms of films being screened, Madagascar 3 and Charlie Chaplin on the Beach were also played, later in the day.
The jury for the 12 day event consists of Italian film maker Nanni Moretti, Diane Kruger, Emmanuelle Devos, Ewan McGregor, Jean-Paul Gaultier, Hiam Abbass, Raoul Peck, Andrea Arnold and Alexander Payne. The 65th edition of the Cannes Film Festival started on 16 May. The festival began with the screening of the film Moonrise Kingdom, by American director Wes Anderson.
Check out photographs of all the stars and their style from the second day of the most famous film festival in the world...