Thousands of victims of human rights abuses across the Central African Republic are still waiting for justice to be served as the vast majority of individuals suspected to have orchestrated or committed war crimes and crimes against humanity are still "roaming free".
Several high-profile leaders have been arrested, but none has ever been prosecuted. IBTimes UK looks at the infamous army captain Eugène Barret Ngaïkosset, better known as "the butcher of Paoua".
Captain Ngaïkosset is a former member of then-president François Bozizé's presidential guard and commander of the Naval Forces. Bozizé, a Christian, had initially seized power in 2003 before he was elected leader two years later.
A former Bozizé comrade-in-arms, Ngaïkosset's gruesome moniker refers to Paoua, the name of a town in north-western CAR that witnessed serious abuses by Ngaïkosset's Presidential Guard between 2005 and 2007. It is alleged that, during his role as commander, that Ngaïkosset's men used excessive force and perpetuated widespread human rights violations as part of a two-year bush war fought against rag-tag rebels.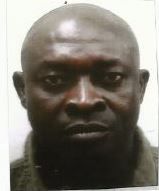 In one such incident in July 2007, heavily armed members of the elite Presidential Guard raided the village of Nanabaria, burning to the ground every single mud and brick home. At the time, the officers said they were hunting down rebels. According to the BBC, the military alleged that "civilians in Nanabaria were giving the rebels refuge". It later transpired that only a quarter of the population in the country's north-west had voted for Bozizé two years earlier.
Repeated attacks in the area sent hundreds of thousands of terrorised people into hiding, deep in the forests and out of reach of humanitarian teams. In 2008, a peace agreement is signed, and Bozizé wins another term in 2011.
When the country erupted into chaos again when Muslim rebel group Seleka toppled Bozizé's government in March 2013, Ngaïkosset was associated with the existing largely Christian vigilante anti-Balaka self-protection groups, who had organised themselves to fight against the Seleka and bring Bozizé back to power.
The anti-Balaka's name derives from the made-up word 'balaka' (a mix between the words 'machete' and 'AK 47' in Sango language), in reference to the Seleka's weapons of choice – effectively meaning "machete-proof" or "invincible".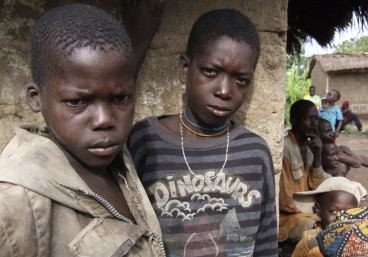 Following the coup, the anti-Balaka militias carried out large-scale reprisal attacks against Muslim civilians, sparking a sectarian civil war.
Wanted by the CAR's transitional government, which was installed in January 2014 after Interim president Michel Djotodia resigned over claims he failed to stop the sectarian violence, Ngaïkosset was extradited from Congo-Brazzaville. He escaped from detention at the Section de Recherche et d'Investigation (SRI), Bangui's investigative police department, in May 2015.
The UN imposed sanctions on Ngaïkosset in December 2015 for allegedly committing numerous crimes, including sexual violence, targeting of civilians, attacks on religious minorities, attacks on schools and hospitals, and abduction. Ngaïkosset is still at large, and there have so far been no attempt to recapture him, according to Amnesty.