Carillion workers ordered to remain silent after company collapses into liquidation
Spokesman for Number 10 confirms Theresa May has ruled out any state bailout for the company.
Workers at stricken construction giant Carillion have been warned against speaking to the media, according to an internal memo.
The document, which was leaked to HuffPost UK, was issued shortly after the London-listed company crashed into liquidation on Monday (15 January), burdened by debts of around £1.5bn (€2bn) and a £600m pension deficit.
"Do not speak to the media and be careful not to share any information on social media as this will be unhelpful to all of us," the memo states.
The document was delivered through internal email and invited managers to pass on the message onto staff who do not use computers. In the memo, the company also urged its 20,000 UK staff to refrain from airing their concerns and questions online.
"I know this is an exceptionally sad day – and I know that many of you will have lots of questions about what happens next," Daniel Easthope, a regional managing director, said in the memo.
"We will endeavour to get you as much information as we can, as soon as we can."
Late on Monday, thousands of workers employed by private sector companies that worked for Carillion were told that their wages will be stopped within 48 hours.
Cabinet Office minister David Lidington insisted the government would continue to pay those among them who work in public sector jobs, such as school catering and NHS cleaning.
However, Lidington admitted those who worked for private companies would not be granted the same safety net and will be made redundant by Wednesday.
"The position of private sector employees is that they will not be getting the same protection that we're offering to public sector employees, beyond a 48-hour period of grace," Lidington said. "I think that is a reasonable gesture towards private sector employees."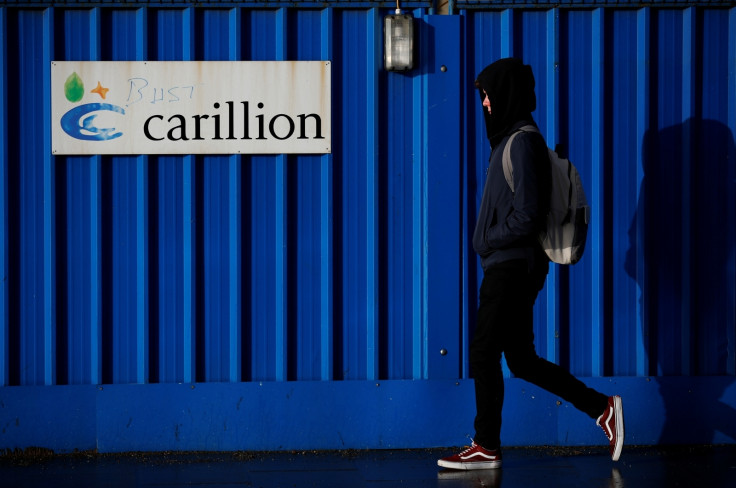 The Wolverhampton-based firm is a key government supplier on the High Speed 2 (HS2) rail projectand numerous education and health construction contracts. The group also maintains half of the UK's prisons and is the second largest supplier to Network Rail.
The government has come under intense pressure to explain why it handed Carillion huge contracts, despite the fact the company had issued three profit warnings in the 12 months to November.
"Government ministers seem to have colluded in a strategy where, even when they know the company was in trouble [...] [they] still drip-fed this company with public contracts," Labour shadow chancellor, John McDonnell, told Sky News on Tuesday afternoon.
"It was just a strategy that was bound to fail, and put pressure on workers and unfortunately now taxpayer as well.
"We need a full public inquiry, immediately, to find out exactly what happened. We want to know what the government's involvement in all this is."
Meanwhile, a spokesman for Number 10 ruled out the possibility of state bailout for Carillion, adding Theresa May had told ministers the state could not rescue a private company.
"The PM said that public services had continued to be provided but there would be no complacency," he said.
"She said Government would be vigilant in monitoring for any emerging issues in public services and in providing support for employees of companies with private sector Carillion contracts."