The Metropolitan Police have released CCTV footage of a knife carrying moped mugger mounting a pavement in an attempt to steal a mobile phone moments before he crashed and nearly killed his passenger friend.
Harry Wright, 21, was jailed for seven years after pleading guilty to possession of a knife, possession of drugs and causing serious injury by dangerous driving.
Wright stole a Piaggio moped last November and set about on a spree of phone thefts targeting rush hour commuters in north London.
It ended in disaster when he crashed head first into a BMW while riding the wrong way down road at around 50mph.
He was arrested shortly after, and found in possession of a large hunting knife. The police mugshot shows his face badly bruised and cut by the crash.
His 18-year-old passenger was not so lucky: he was taken to hospital in a critical condition and is still receiving medical attention.
"Harry Wright almost killed his friend for the sake of a stealing a few mobile phones worth a couple of hundred pounds. In the words of the judge, Wright has 'destroyed the victim's life,'" said DC Ben Kahane.
"Given the deliberate dangerousness of his driving, it was pure luck that he didn't hurt or kill any innocent pedestrians.
"This case is a reminder to those committing moped-enabled crime, that you take your risk your own life and that of passengers and the public by undertaking such reckless criminality."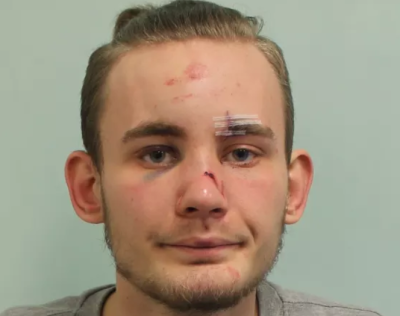 The footage released by police shows Wright attempting to snatch a pedestrian's phone on Kingsland Road at around 10am on 13 November.
This was an unsuccessful attempt – although detectives identified three victims who had their property stolen by Wright on the same morning.
Further images show Wright and his passenger travelling the wrong way down a residential street nearby. Moments later, the near fatal collision occurred.
Wright, of Canonbury Road, N1, was sentenced at Wood Green Crown Court on 20 February.