If you thought adding bass to a car stereo meant installing a pair of massive subwoofers in the boot and playing your music offensively loud, then you would be wrong. A new speaker system by Harman, called Summit, uses vibration motors in the seats to add powerful bass to music without any of the booming noise.
In addition to bass you can feel through your back, the Summit system has 28 speakers –including a pair installed above the windscreen to add depth to your music. Controlled via a Microsoft Surface mounted on the dashboard, this prototype system fitted to a Lexus luxury saloon car is Harman urging car makers that their sound systems can be much better than they are today.
IBTimes UK tried out the system at the CES technology show in Las Vegas and we were blown away by what we heard - and felt. The vibrating seats may sound like a gimmick, but they really do add to the experience, giving the sensation of pounding bass without destroying our eardrums.
Another smart feature of Summit is its ability to change how music sounds depending on the location you choose from. Famous buildings like the Royal Albert Hall and Sydney Opera House can be picked, each subtly changing how your music sounds. I'm not sure if anyone other than the biggest of music buffs would really find these options to stoke memories of visiting each location, but it's an impressive feature which adds an interesting new element to your music.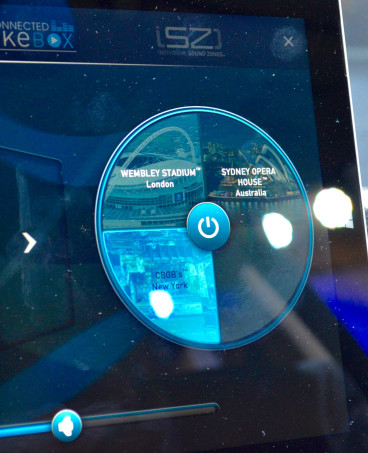 A swipe at the Surface control unit adjusts where in the car you want the music to come from – yes, most cars can adjust the volume front-to-back and left-to-right, but here the result felt like an enriching new feature rather than a rarely used option buried in the settings menu.
Harman is showing Summit off for the first time at CES and is now talking with car manufacturers about potentially installing similar systems to their vehicles as a premium entertainment option in high-end executive saloon cars.
The vibrating seats sound like a complicated and expensive modification, but the bass sensation - Harman calls it Personal Bass Impact - can be created with the vibration motors already installed in some car seats to warn the driver when they stray out of lane without indicating.
I have been fortunate enough to try out some very high-end car stereos recently, from Rolls-Royce and BMW, but these pale in comparison to the Harman Summit. The depth and range of sound is something I haven't heard in a car before. The different locations is a bit of a gimmick, but based on sound quality alone I want to see this system installed on as many cars as possible.