Bang & Olufsen has taken the wraps off its BeoSound 35 – a brand new all-in-one wireless music system for the home. The audio manufacturer is know for its opulent design, and this one is no different, with its one-metre wide pentagonal-shaped speaker designed to fill rooms with audio while blending into your home decor.
But its beautiful, fancy shape, which wouldn't look out of place in a Star Wars movie with its metal rear shell, black fabric front and OLED display, isn't just aesthetic. The stretching wingspan is intended to deliver balanced, 180-degree angle audio that aims to throw out optimum sound wherever you place it in a room — including wall-mounting, which some rivals aren't able to do.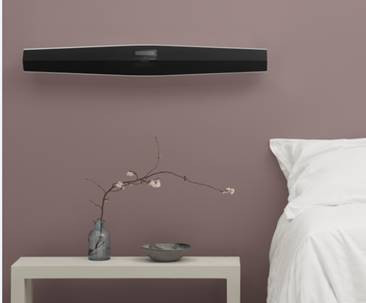 The high-end system is designed with tapered ends containing small treble drivers, while at its centre are larger loudspeakers to deliver more bass-heavy audio and more volume. You can sling your audio to the unit via AirPlay, Bluetooth and DNLA-based services. It's controlled with either its rather fancy touch-sensitive edge or through the BeoRemote or BeoMusic app on mobile.
The BeoSound 35 joins the likes of Bowers & Wilkins' Zeppelin and Sonos' Play:5 as premium options for all-in-one audio but, as expected, this comes in more pricey with RRP from £1,745. There's no question it's a beautiful-looking speaker (it's actually more like a soundbar compared to other all-in-ones on the market) but that's a lot more than both the mentioned rivals. However, for discerning audiophiles this probably won't matter. The BeoSound 35 will be available for the audio aristocrats come mid-April 2016.
In the meantime, we'll be getting ears-on with the BeoSound 35 at CES in Las Vegas where B&O showed off its latest wares.