Citibank is testing out an unusual new type of ATM cash machine that has no screen or keypad to type in a PIN, instead relying on proximity with your smartphone and scanning your iris to authenticate your identity.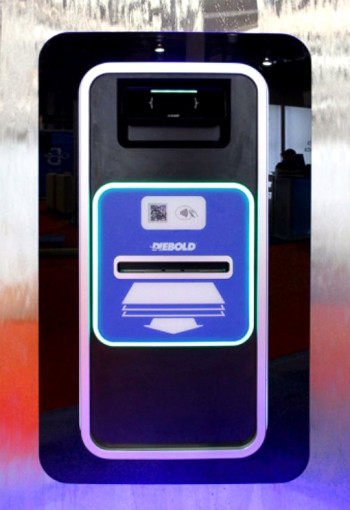 EyeLock, a firm specialising in iris-based identity authentication solutions, has teamed up with Diebold, a self-service technology provider, to create a prototype of an ATM cash machine called Irving that uses an app on a user's smartphone and their proximity to send information about the customer to the cash machine using Near Field Communications (NFC).
NFC enables smartphones and point-of-sale (POS) payment terminals to communicate at short range by being tapped together, using NFC tags and other small transmitters to send and receive information.
To make this transaction work, the user has to log on to their banking app on their smartphone or tablet and tell it how much money they want to withdraw. When they get to the ATM and stand in front of it, the app sends the withdrawal request from the device to the ATM without the device needing to be tapped on a reader, and the ATM recognises who you are based on the wireless signature of your device.
To get the money, all the user has to do is let the machine scan their iris and it will instantly dispense the required amount of cash. The firms say the whole process takes less than half the time a typical ATM cash machine transaction takes today.
The concept is an interesting one, but what were to happen if the ATM did not have the exact amount of money you wanted it to dispense, due to it only having larger denominations for example?
The ATM prototype is on display at the VOXX International booth at the Consumer Electronics Show (CES) 2016 in Las Vegas, and Citibank is testing out the prototype at its innovation labs in New York.