Acer has revealed its new Predator 21 X gaming laptop, a $8,999 (£7,326) beast of a machine sporting a 21in curved display with 2560 x 1080 resolution. The huge price is indicative of it soon being one of the most powerful gaming laptops on the market.
First announced in August, at CES 2017 the company revealed that the final product will go on sale in North America in February. It houses a new seventh-generation Intel Core i7 processor, two GeForce GTX 1080 X graphics cards, 64GB of DDR4-2400 memory and the ability to house up to four 512GB SSD drives.
It'll probably be able to run Stardew Valley then. The Predator 21 X houses a mechanical keyboard and a trackpad to the right that can be taken out and flipped over to reveal a number pad, which slots in magnetically.
It also requires two power supplies to ensure it has enough juice to run smoothly and weighs in at just shy of 8kg.
Underneath the curved screen is a Tobii eye-tracking panel, which allows players to control some games (Acer say 45 are currently supported, such as Watch Dogs 2) with their eye-movements. IBTimes UK demoed the technology in early 2015.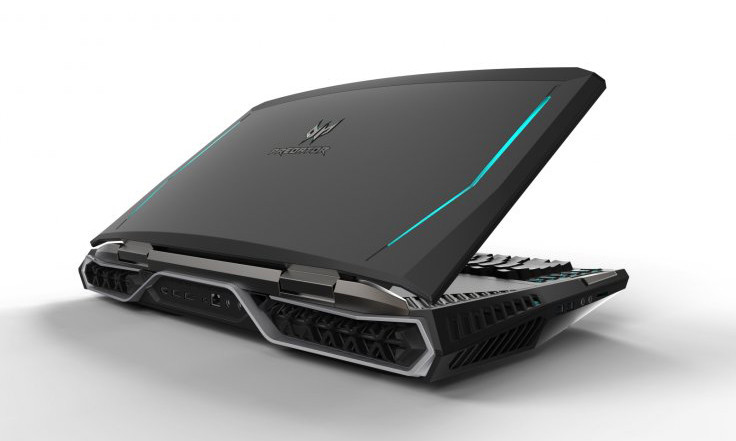 Given the high cost, the laptop has a chunky, highly-durable hard-shell case to protect it. This, coupled with its curved screen, means the Predator 21 X certainly isn't a beautiful machine, but at least it steers clear of the awful red-black colour scheme of other Predator laptops, and most competing gaming laptops.
Samsung revealed its own gaming laptop at CES: the much more modest Notebook Odyssey, available in 15 and 17 inch (non-curved) forms, with Intel's Core i7 processor, 32GB of RAM, up to 256GB SSD and an Nvidia GTX 1050 graphics card. There's no price yet, but it's safe to say it'll be less than $9,000.