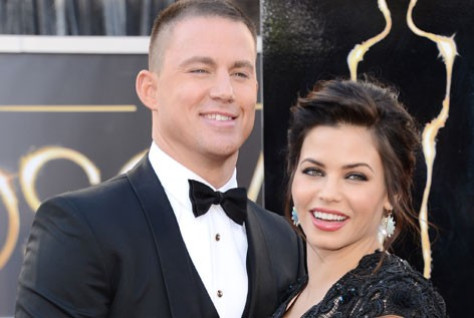 Hollywood actor Channing Tatum has become a father for the first time.
The Magic Mike star and his wife Jenna Dewan-Tatum welcomed a baby girl at a private London hospital, Us Weekly magazine reports.
The American couple, who have been residing in the UK for the last six months while Tatum films his latest movie, Jupiter Ascending, have yet to officially announce their new arrival, the couple's first child.
They tied the knot in Malibu in front of family and close friends in 2009 after falling in love on the set of Step Up in 2006.
Tatum's White House Down co-star Jamie Foxx has tweeted his congratulations to the couple.
He wrote: "Big luv 2 my @WHD costar @channingtatum + wife @jennaldewan + their new baby. Welcome 2 the world little Tatum."
The couple first announced the pregnancy in December with Tatum saying, "I'm ready; I think she's ready".
In April, Dewan-Tatum praised her husband for being supportive during her pregnancy.
"Channing has been great. He takes the route of no confrontation, just support, saying things like, 'Do whatever you want! What do you want to eat? I'm going to leave it up to you,'" she told Glamour magazine.
Meanwhile, Tatum, who was crowned People magazine's Sexiest Man Alive 2012, admitted he was in need of some childcare lessons.
"I have never changed a diaper before, so I may need some help learning," he said.
The new parents are expected to move back to the US after completing filming for Jupiter Ascending later this year.