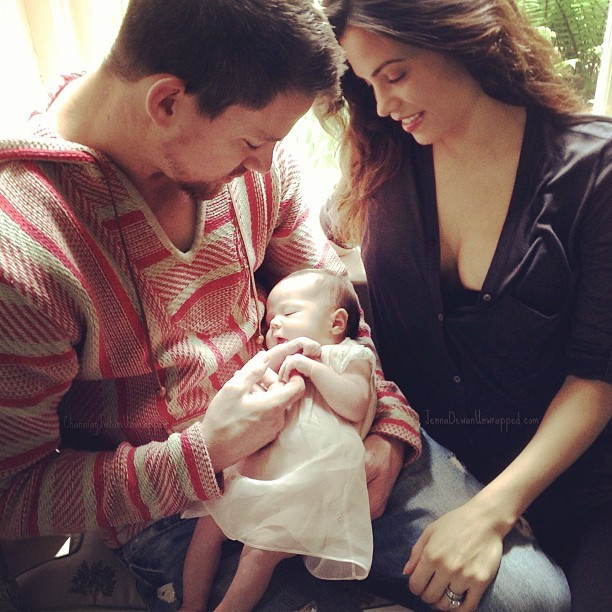 American actor Channing Tatum shared an adorable picture of his baby girl Everly, along with his wife, actress Jenna Dewan-Tatum.
"First Father's Day with my girls!" he wrote on Facebook. Jenna posted the same photo with the caption, "First Father's Day with our lil angel!"
The couple welcomed their first child on 31 May in London, where Channing films his latest movie, Jupiter Ascending.
Channing and Jenna, who met on the set of their film Step Up in 2006 and tied the knot in Malibu in front of family and close friends in 2009.
Tatum, who was crowned People magazine's Sexiest Man Alive 2012, admitted he was in need of some childcare lessons.
"I have never changed a diaper before, so I may need some help learning," he previously told People, "I don't have friends who have kids, so it's going to be an interesting experience to learn how to change a diaper. I hope I don't have any problems where the diaper falls off and the baby [poops] on the ground."
"But once the baby is born, I'll definitely do the diaper changing. If it means touching the [poop] and getting peed on, I'll still do it. I'm up for the challenge," he added.
Channing recently opened up to Vanity Fair about becoming a dad.
"I don't know anyone who did have perfect parents," he said, "It's provided me with lessons I'll try to improve upon when I'm up to bat. I'm just going to be a good friend to my kid. One thing I definitely want to change is that whole 'I don't want you to make the same mistakes' mentality. My dad didn't have much money growing up; he didn't have much of an education. He forced that on me, and I didn't want it."