US President Barack Obama has condemned the "brutal and outrageous murders" of three Muslim students in Chapel Hill, North Carolina.
Shaddy Barakat, 23, his wife, Yusor Mohammad Abu-Salha, 21, and her sister Razan Mohammad Abu-Salha, 19, were killed on Tuesday (10 February) in the couple's Chapel Hill apartment.
Craig Stephen Hicks, 46, handed himself into police following the murders. It's alleged he killed the three students over a parking dispute, but family members claim it was a hate crime.
On Thursday (12 February) more than 5,000 people attended the funerals of the students.
Offering his condolences to the families of the victims he said: "No one in the United States of America should ever be targeted because of who they are, what they look like, or how they worship.
"As we saw with the overwhelming presence at the funeral of these young Americans, we are all one American family," he added.
Mr Obama had earlier faced criticism from Turkey's President Recep Tayyip Erdogan for his failure to speak out about the killings.
"If you stay silent when faced with an incident like this, and don't make a statement, the world will stay silent towards you," Mr Erdogan said.
It was originally suspected that the killing was motivated by religion due to a Facebook page bearing Hicks' name, accompanied by atheist slogans.
However, preliminary police investigations suggested Hicks had killed the three youths over a parking dispute. However, the fathers of the three young Muslims said the killings were motivated by religious hatred.
"This has hate crime written all over it," said Dr Mohammad Yousif Abu-Salha, who lost his daughters. If they don't listen carefully, I will yell."
The murders saw the hashtag #MuslimLivesMatter trending on social media.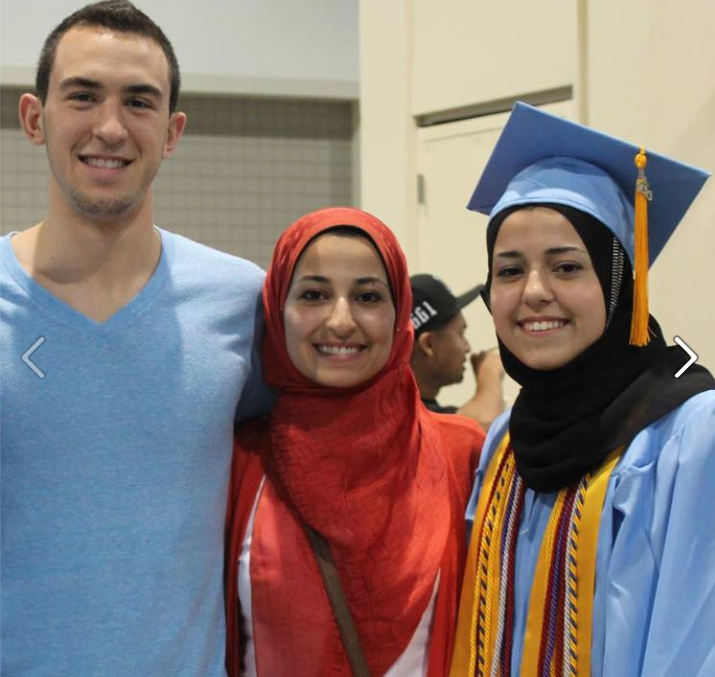 Muslim groups planned to hold Friday prayers in front of the White House as part of their call for a federal hate-crime inquiry.
The FBI has opened an investigation into the killings to run parallel to that by the local police force.
But US Attorney Ripley Rand has said there was no immediate evidence Muslims were being targeted.
Hicks, 46, a paralegal student at a local community college and a gun rights advocate was arrested and faces charges of three counts of first-degree murder.
Local residents described Hicks as "angry and confrontational." Neighbour Samantha Maness, 25, said Hicks displayed "equal opportunity anger towards the residents here".
Hicks' ex-wife told the Associated Press he was obsessed with Falling Down, the 1993 movie about a jobless divorcee who goes on a shooting rampage.