Chelsea Handler has taken another swipe at Angelina Jolie, describing her split from Brad Pitt as his "emancipation."
The TV host and comedienne was introducing celebrity divorce lawyer Laura Wasser at a gala charity fundraiser in LA, when she made a jibe about the Maleficent star.
According to TMZ Chelsea told the star studded crowd: "[Laura]'s very dynamic, she's very principled and she's a very accomplished human being.
"And she's such a humanitarian, she's actually currently negotiating Brad Pitt's emancipation."
Attending A Place Called Home's Gala For The Children in Los Angeles, the 41-year-old appeared to be alluding to the former couple's six children when she added: "Speaking of kids that need help..."
The latest dig at Jolie's expense garnered laughter and applause from the audience.
Handler, who is a close friend of Pitt's ex Jennifer Aniston has made her feelings about the UN ambassador clear since news of the A-list couple's divorce first made headlines, branding her a 'lunatic'.
In her self-titled show on Netflix in September she commented: "There are rumors that part of the problem was that Brad was allegedly drinking and smoking too much weed. I wonder why he would need to self-medicate.'
"Maybe because he could have been spending the last 12 years at Lake Como hanging out with George Clooney and Matt Damon, instead of being stuck in a house with 85 kids speaking 15 different languages.
"Oh yeah, because he married a f***ing lunatic, that's why."
The Hollywood power couple made global headlines after it was announced on 20 September that they are to split after 12 years together and two years of marriage.
Jolie filed for divorce citing 'irreconcilable differences' and is seeking full custody of their six children.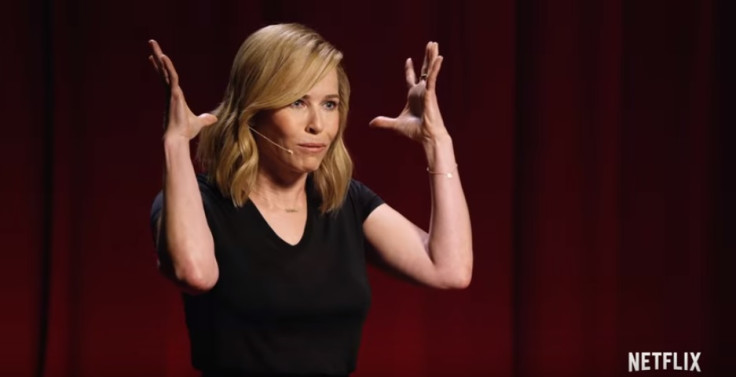 Earlier this month, Brad Pitt broke his silence on his shock split from his estranged wife. Attending the Los Angeles premiere of his World War Two drama Allied with co-star Marion Cotillard, he addressed the recent upheaval in his personal life and expressed his gratitude for the support he had received.
"It's really sweet, everyone has been really kind out here," he said. "It's really nice to have all the support."
A rep confirmed in a statement that the couple have reached a legal agreement about the custody of their six children, Maddox, 15, Pax , 12, Zahara, 11, Shiloh, 10, and twins Knox Jolie-Pitt and Vivienne, 8, suggesting their divorce is one step closer to being finalised.