Massive floods and landslides in central Chile have led to the deaths of at least four people and disruption of drinking water supply to around four million people in capital Santiago. The floods have also cut off several areas.
Chilean President Michelle Bachelet wrote on Twitter that emergency teams were working to reach marooned people and restore the water supply.
Agence France Presse reported that torrential rain battered the South American country on Saturday (25 February), causing mudslides that contaminated the Maipo River, the primary drinking water source for most homes in the capital. The contamination prompted civic authorities to cut drinking water supply leaving thousands of families without water.
"We are talking about 1.45 million homes that are going to be affected by the cutting off of the water supply, which will be total or partial in 30 districts of Santiago," the region's governor Claudio Orrego told a news conference. He explained that the water outage will affect more than 60% of the capital city's 6.5 million population — about 3.9 million people.
He added: "We still do not know when the drinking water will be turned back on. We cannot guarantee resumption of the service until the River Maipo clears up."
Authorities have ordered restaurants and businesses without drinking water to stay closed. Schools have also been asked to remain shut.
The interior ministry confirmed the deaths of four people and said six others were missing due to the rain. They added that 3,300 people were cut off overall by the floods.
A rainstorm also hit near the Maipo River in the countryside east of Santiago. Governor Vanessa Marimon of Cordillera province said the gushing water from the river swept away bridges and left 1,200 people cut off in the area.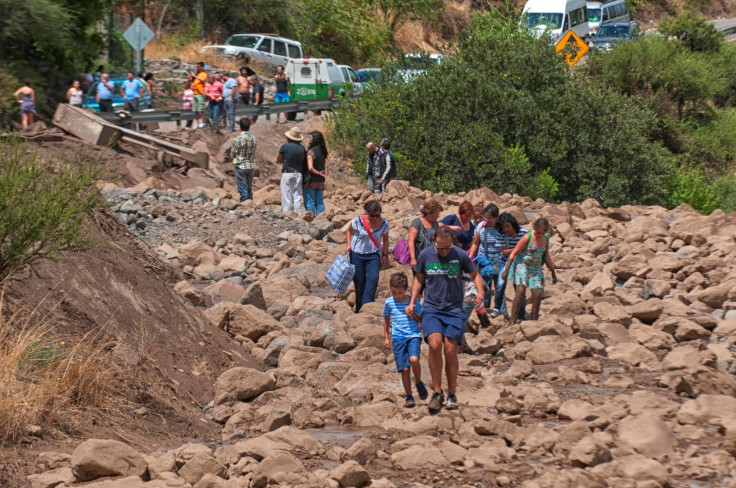 The northern Antofagasta region and the tourist district of San Pedro de Atacama were also affected by the floods following heavy rain.
According to Reuters, this is the second major flooding event that has battered central Chile in the past year. Similar torrential rain and floods hit San Jose de Maipo valley in April 2016, killing one and shutting production at some of the largest copper mines in the country.