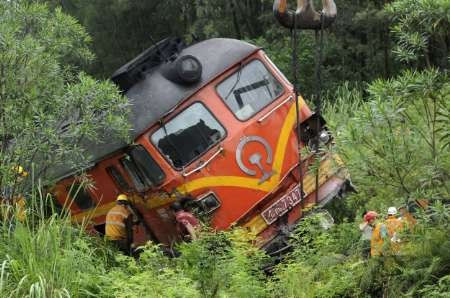 Facing a flow of criticism for both its handling of and responsibility for the train crash accident that killed 39 people and injured another 200, the Chinese government is has said that a mix of design flaws and human errors have cause China's deadliest train accident since 2008.
According to state media, railway officials now blame a severe flaw in the design of signalling equipment prevented a green light from turning to red after a lightning strike halted a train on a high-speed line south of Shanghai, which has in turn led to a second train crashing into the rear of the first, toppling several carriages off of a bridge.
The officials also blamed employees in Wenzhou, as they say the dispatchers at the station should have intervened manually following the Chinese-made signalling equipment failed.
Premier Wen Jiabao travelled Wednesday to Wenzhou to oversee an investigation of the accident and visit the victims' relatives, but the highly publicised trip failed to calm angered Chinese and the press continued to express harsh criticisms against the government.
Staging a mini protest, a 100 strong group made up of the victims' relatives gathered at the railway station in Wenzhou on Wednesday to demand an explanation for the accident.
Following the popular outcry the government has also announced it will set up a two-month safety campaign for the rail system and an investigation is already underway, leading to the dismissal of three rail officials.
Internet users and bloggers expressed their anger when it emerged the authorities had buried some of the wreckage at the scene of the crash, preventing its examination.
Moreover many also complained the government had called off the search for survivors too rapidly, especially after a two-year-old girl was found alive hours after the search was ordered to be ended.