The woman who grabbed Chris Brown in a nightclub has spoken out about the incident, saying she believes he went too far in his reaction, and is reportedly considering legal action.
The Loyal singer, 25, was leaving Club Limelight in Houston after hosting a party with his girlfriend Karrueche Tran, 26, when the drunk fan grabbed his face in an attempt to kiss him.
Brown reportedly reacted to the unexpected altercation by nudging the woman out of the way in an attempt to shield his face.
According to TMZ, the woman, known as Mandee, has admitted she was "wasted" after Brown's performance at the Houston nightclub and reached out for the singer but didn't mean any harm.
She also admits it's understandable that Brown was simply reacting to her unwanted face grab when he allegedly "pushed her away", but feels he went too far.
Speaking to TMZ, she revealed that she might take legal action against the star.
"I wasn't trying to hurt him, I was just a drunk fan", she added.
The r'n'b singer's swift reaction comes after he has been warned to keep safe following a string of violent incidents at his promotional events.
On 24 August, three people were shot - including record label founder Suge Knight - following Brown's pre-VMA concert after-party in Los Angeles and on 22 September, a man was stabbed after his performance at a YMCMB after-party.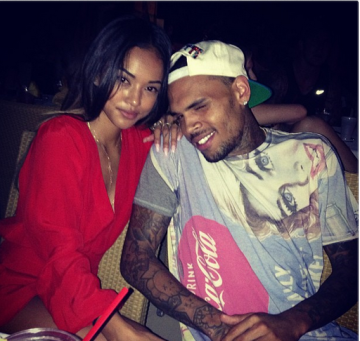 The incidents have reportedly left the Grammy Winner's family fearful and urging him to take extra security measures.
A source told Hollywood Life: "That woman came from out of nowhere; he didn't even see her. For all he knew, he could have been under attack in that moment.
"He was walking and was looking behind him, talking to his girlfriend and when he turned around to go up the stairs, he felt something or someone grabbing his face and he reacted like anyone else would and tried to block his face," the source explains.
"In that moment, he didn't know if someone was trying to hit him or what, all he did was try to shield his face. He didn't push anyone".
Brown's attorney, Mark Geragos, told HollywoodLife: "He didn't shove anyone ... I would hope you would watch the footage and see he didn't do a thing."