Chris Cornell: Soundgarden was working on new material prior to singer's tragic death
Thayil said there was also archival music that fans could finally hear, such as songs produced by Jack Endino.
As the world struggles to come to terms with the sudden death of Chris Cornell, what the future holds for Soundgarden, the band he fronted, remains in the Superunknown.
The devastated group have cancelled the remaining dates on their North American Tour with surviving bandmates Kim Thayil, Matt Cameron and Ben Shepherd yet to release an official statement on Cornell's passing.
Prior to the musician committing suicide by hanging in a hotel room in Detroit, the group had revealed plans to release new material. Speaking to Billboard, Thayil confirmed they were working on a follow-up to 2012's King Animal, which sold 83,000 copies in the US in its first week of release.
"It's been a couple years of intermittent songwriting sessions," the lead guitarist explained.
He added: "We look for opportunities where all four of us are available and then we get together and we show each other what we've been working on, what we've been writing on our own and see if there's anything that can be contributed from that sharing process. And then we like to jam and see if any ideas come out collaboratively that we can work on."
Soundgarden's most successful UK album was 1994's Superunknown – spawning hits such as My Wave and the immortal Black Hole Sun, it peaked at number four.
"There's some songs that have been demoed. I think Matt [Cameron, drummer]'s demoed some things completely, stuff he's recorded on his computer. Chris [Cornell] has demoed a few things. He's written lyrics for ideas that I've written and that Ben [Shepherd, bassist] and Matt have written. There's some things that have been documented in rehearsal.
"There's some things that are at the demo stage. There's some that are still in the developmental stage — ideas that we've jammed on that we're working on arrangements for. Every different stage within the process of songwriting is being addressed at this point."peaked at number four," Thayil said.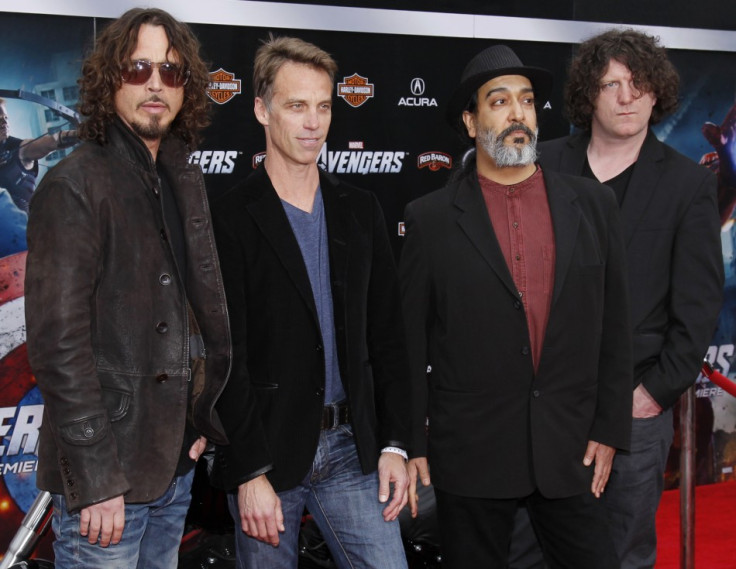 He added that there was some archival music that fans could finally get to hear, including material produced by Jack Endino. "There are a number of recordings sessions that were never released for various reasons," he said. "We've been able to address many of the aspects from our catalogue, both released and unreleased, and I think we will continue to do so."
© Copyright IBTimes 2023. All rights reserved.