The highly anticipated John Lewis Christmas advert for 2015 has been unveiled, featuring a young girl who strikes up a relationship with elderly man living on his own on the moon. The story of the ad sees a young girl named Lily and her attempts to wish the man a merry Christmas, finally succeeding by sending him her telescope tied to a bunch of balloons, ending with the strapline: "Show someone they're loved this Christmas."
As is tradition for John Lewis, the ad is accompanied by a cover version of a well-known but non-festive song. This year, the Oasis track Half The World Away is performed by the 19-year-old Norwegian artist Aurora and becomes the first-non British artist to be featured in a John Lewis Christmas advert.
The ad itself cost around £1m ($1.5m) to make, less than the £7m spent on last year's ad featuring Monty the Penguin, but the retailer is estimated to be spending a further £6m on television slots. The ad will get its debut broadcast during first break of Channel 4's Gogglebox on 6 November.
John Lewis teamed up with Age UK as part of a campaign to remind people about those who may be alone this festive period. The retailer will be supporting the charity throughout November and December with initiatives such as text-to-donate campaigns online and in their stores and through the sales of selected Christmas merchandise.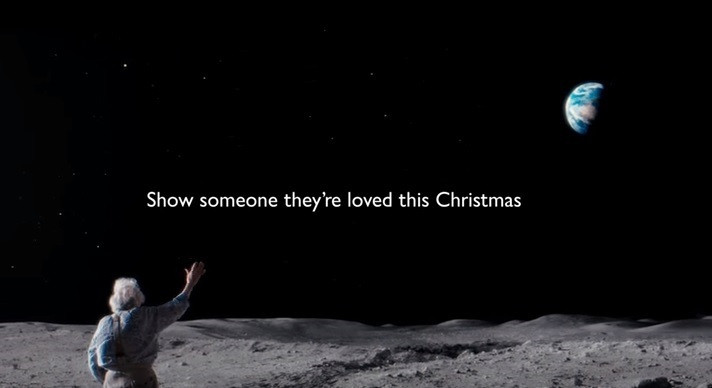 John Lewis customer director Craig Inglis said: "Our Christmas advert is once again all about going the extra mile to give someone the perfect gift. This year though, the story is told in a uniquely creative and engaging way as we see Lily, our heroine, go to great lengths to connect with the Man On The Moon.
"We hope it inspires people to find really special gifts for their loved ones and through our partnership with Age UK, raises awareness of the issue of loneliness amongst older people, and encourages others to support in any way they can."
Over the past few years, the typically heart-wrenching John Lewis advert has become as synonymous with Christmas as Slade, the Snowman and possibly Jesus. According to research released by MindMover on the day the ad was released, John Lewis is now the brand people most associate with Christmas, ahead of Coca-Cola and Marks and Spencer.