'Communist' Wikipedia Faces Lawsuit Over Monkey Selfie Copyright Dispute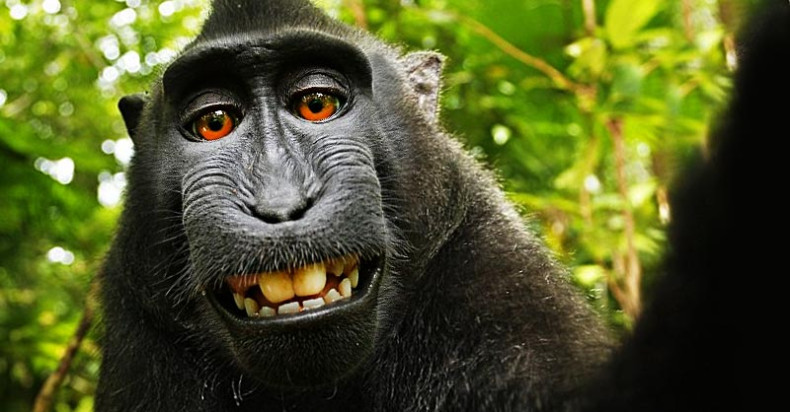 Wikipedia has been labelled a "band of communists" by a photographer after refusing to remove an image he owns, claiming that he does not own the copyright as a monkey pressed the shutter button.
The picture in question was taken in 2011 when British nature photographer David Slater was on a trip to Indonesia. While photographing crested black macaques in the jungle, one monkey took hold of his camera and took a series of photos.
One image captured by the macaque (pictured above) gained worldwide attention, appearing on websites, newspapers, magazines and television shows. It was subsequently added to the Wikimedia Commons picture database allowing anyone to use the image without paying a fee. Wikimedia is the organisation behind Wikipedia.
"Wikipedia are a disgrace," Slater told IBTimes UK. "They're a band of communists who think that because photographs are taken of the wild, then they should be free to everyone."
Slater claims that the inclusion of the monkey image in Wikimedia's royalty-free image library has damaged his livelihood and is currently considering legal action against the organisation for statutory damages.
"I'm very angry. I'm not a rich photographer, in fact I can't even afford now to travel or to replace my old camera equipment," Slater said.
A spokesperson for Wikimedia told IBTimes UK that under US copyright law, David Slater does not own the rights to the image.
"Copyright claims can't be registered to non-human authors - and the monkey was the photographer," the spokesperson said. "That doesn't mean that the monkey owns the copyright, it just means that the human who owns the camera doesn't."

"To claim copyright, the photographer would have had to make substantial contributions to the final image, and even then, they'd only have copyright for those alterations, not the underlying image."
Slater claims that he did make a significant contribution to the image in question, by framing and focussing the photograph. He also says that it is registered under his name with the US Copyright Office.
US copyright law, under section 503.03(a), states: "In order to be entitled to copyright registration, a work must be the product of human authorship. Works produced by mechanical processes or random selection without any contribution by a human author are not registrable."