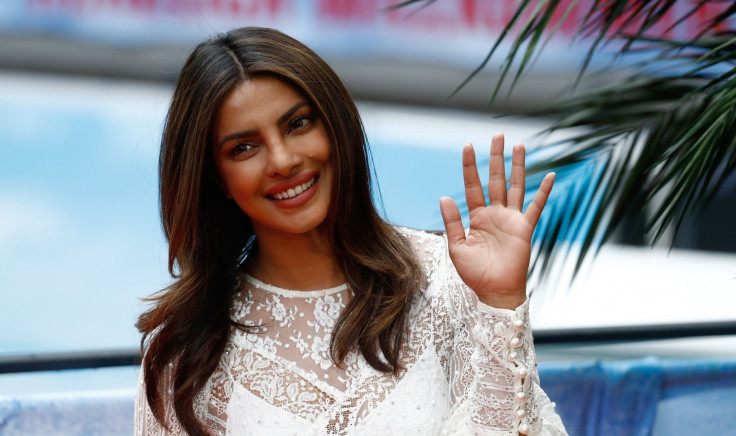 Priyanka Chopra seems to have no trouble juggling numerous roles. From Bollywood star and singer to Hollywood actor and fashion icon, the Indian beauty is making waves across the globe. Most recently, she donned her producer hat alongside her mother Madhu Chopra, for Pahuna – The Little Visitors, a film which premiered at the Toronto International Film Festival (TIFF) on 7 September.
By the look of it, there is no pie the Quantico star will not try getting her fingers into. In a recent interview with Paper magazine for their fall edition, Chopra explained that ambition was a very important part of her life. "I'm extremely ambitious and I think it's a really great quality for girls to have," she said. "Somehow, ambition and feminism have turned into bad words, and they're not."
Describing her ambition as "wanting to be the best version of yourself," she accepts that there are times when the temptation to give up can be very strong. "Of course there are dark moments when you're just like, 'I can't do this,' and you feel scared," she acknowledges but insists that the always convinces herself to move ahead.
"I never say 'no' to anything because you never know the new experience that will come your way. Yes, it's really hard sometimes. As a girl, as someone who didn't know anyone in the business or the entertainment industry, it was very solitary, my journey. It's been very long, and that's been the hard part. It makes you vulnerable," she explained.
Since stepping into the role of Alex Parish in Quantico, Chopra became a representative of sorts for the Indian community and she takes the job very seriously. "It's still not enough," she said of the representation of South Asian characters in media.
"Aziz Ansari [Master of None] and I were at the Boom Boom Room after the Met Gala [this year]," she recounted. "We were hanging out and looking at everyone, and he said to me, 'You know Priyanka, I've been here so many times. Seven years ago there were only two South Asians, and today, there are seven.'
"I was like, 'I don't know if that's a lot, Aziz, that we've gone from two to seven in a room of 500.' I'm laughing about it, but representation needs to be brought up in a big way."
The Baywatch villain is keen for people in the US especially to understand that India is more than just a bunch of stereotypes.
"One, Bollywood is not a city," she pointed out. "I feel like the word 'Bollywood' has been reduced to a Zumba class. Two, there's so much beauty in India's chaos. It's not one thing. It's not even ten things. It's just a metamorphosis of contradictions, and there's music to it.
"When you see the country, your every sense will be assaulted with how much there is in terms of culture and music and people and the contradictions that live within society. We don't all have arranged marriages, and there's a lot more food outside of chicken tikka masala. I can go on," she added.
For her Paper photo shoot, The Indian national film award winner posed for photographer Michael Avedon, showing off her petite figure in a black Roberto Cavalli boustiere and Alexander Wang leather jacket.
However, the photo that definitely is garnering the most praise is one in which Chopra poses wearing a Christian Siriano ruffled top which highlights her sun-kissed skin. "She's on fire," on fan commented on the photo on Twitter while the designer brand's account described her as a "copper goddess".
Chopra is currently filming the romantic comedy Isn't It Romantic, opposite Rebel Wilson, Liam Hemsworth and Adam Devine. She will also begin work on an adaptation of Daniel Pearle's play, A Kid Like Jake alongside Claire Danes, Jim Parsons and Octavia Spencer.
Aside from her acting gigs, the former Miss World winner is also developing a show for ABC about a "huge Indian star who becomes a soccer mom in Middle America." Chopra is expected to be the executive producer of the project, which is based on the true story of Indian actress Madhuri Dixit.