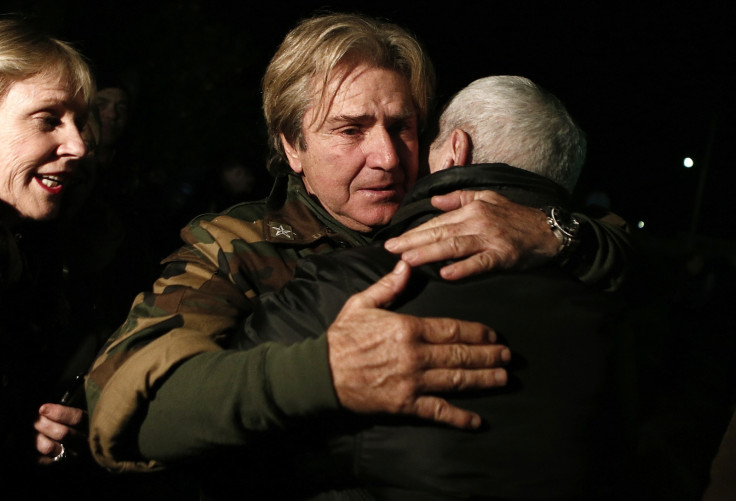 Survivors of the Norman Atlantic ferry disaster said panic broke out, with passengers trading blows over space in lifeboats, as death toll reaches ten.
"Everyone there was trampling on each other to get onto the helicopter," Greek truck driver Christos Perlis told AP by telephone from one of the rescue vessels.
When rescue helicopters arrived, passengers began to jockey for position, he added.
"First children, then women and then men. But the men, they started hitting us so they could get on first. They didn't take into consideration the women or the children, nothing," Perlis said.
"The jungle law prevailed," said Greek passenger Irene Varsioti. "There was no queue or order. No respect was shown for children."
In the chaos that broke out, passengers fled from the inferno, drenched by freezing rain and firefighters' hoses while searing heat from the fires below burned their feet.
Italian and Greek helicopter rescue crews on Monday evacuated the last of the known survivors aboard the vessel, bringing the number rescued to 427.
But the death toll climbed to at least 10, and the search in the Adriatic Sea for people missing continued amid serious discrepancies in the ship's manifest and confusion over how many people were aboard. The vessel's operator, Anek Lines, said 475 were on the ferry.
"We cannot say how many people may be missing," Transport Minister Maurizio Lupi said at an evening news conference.
Hundreds of passengers, crew members and two dogs were rescued from the ferry decks in helicopter baskets as the fire roared below.
Some suffered hypothermia, others mild carbon monoxide poisoning, although the first big group to reach land — 49 people who came ashore in Bari — walked off, exhausted and shivering in blankets.
Criticism was levelled at the ferry crew. "There was no alarm - this was the absolute tragedy," Dimitra Theodossiou, a Greek soprano, told Italy's La Repubblica. "They didn't knock. They didn't advise us. We woke from smoke that entered in the room."
Chrysostomos Apostolou, a civil engineer who had been traveling with his wife and their two boys, ages 8 and 14, said: "I witnessed an image of hell as described by Dante, on a ship where the decks were melting and we were trying to find some place that was not burning to stand on."
British show-jumper Nick Channing-Williams told Sky News: "When we got out on deck, the flames were huge and all the cars were on fire.
"The fire was basically cooking everybody's feet... People just panicked," he added. "When the flames are licking up the side of the boat and there's no sign of help... you do feel somewhat helpless."
A criminal investigation to investigate the cause of the fire has been launched.