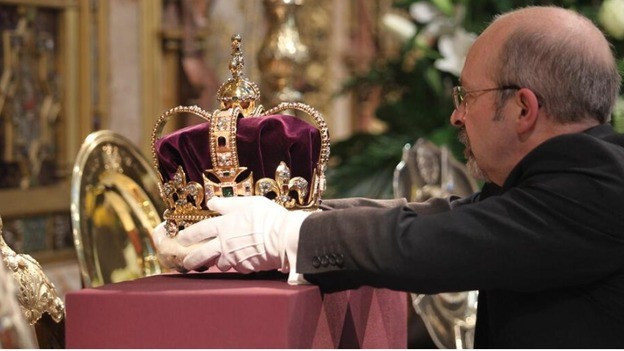 The glittering gold crown which turned Elizabeath II from a princess into queen 60 years ago has arrived at Westminster Abbey in a humble wooden box.
Officials carried in the St Edward's Crown and placed it on the altar of the church for the first time since 1953.
Made from gold, encrusted with precious stones and lined with ermine beneath a cap of velvet, the St Edward's Crown was last seen in the abbey at the Coronation 60 years ago.
Two of the Queen's predecessors - Victoria and King Edward VII - turned down the solid gold St Edward Crown for their coronation because it is so heavy - 2.23kg. They opted instead for the Imperial State Crown, in which is set the famous 14th-century black ruby of the Black Prince.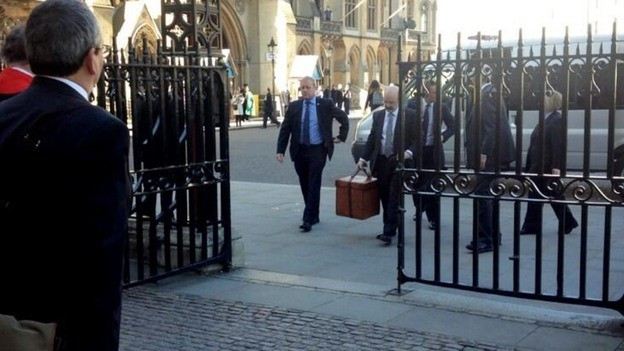 A special service at the abbey will mark the anniversary of the Queen's Coronation. She is attending alongside a heavily pregnant Duchess of Cambridge.
Prince Philip, the Duke of Edinburgh, was due to attend the service despite reportedly feeling unwell. Sixty years ago, he was at his wife's side and took vows of his own, including to be her liegeman.
The St Edward's Crown, dating to 1661, was made for the coronation of Charles II, following the restoration of the monarchy.
A new crown was produced because the original St Edward's Crown was melted down under the rule of Oliver Cromwell.
READ:
Prince Philip: Pillar of Duty in the Face of the Ravages of Time [BLOG]